Edition: November 5, 2018
Resources
News by Sector
Economy
Government Operations
Multiculturalism
Services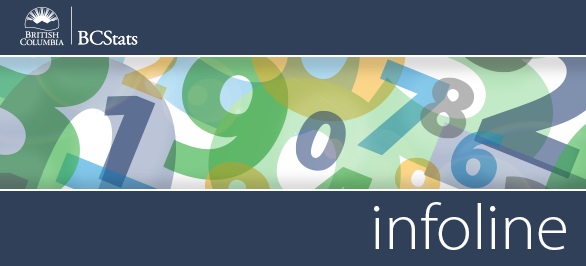 Infoline Highlights: Coverage for the week of October 29-November 2

Exports - The value of B.C. origin exports climbed 7.5% in the first three quarters of 2018, compared to the same nine-month period a year earlier. Shipments increased to each of B.C.'s top three export destinations: the United States (+4.2%), Mainland China (+7.8%) and Japan (+7.8%).
Read more >>
Labour Force Statistics - The unemployment rate in British Columbia was 4.1% in October, down 0.1 percentage points from September and down 0.8 percentage points from 12 months ago. The labour force (‑4,100) and the number of employed (‑1,100) also declined from the previous month.
Read more >>
Gross Domestic Product - The Canadian economy continued to expand in August, marking a seventh consecutive month of growth. Real GDP at basic prices edged up 0.1% (seasonally adjusted), boosted by growth in the energy sector (+1.0%) and finance and insurance (+1.0%).
Read more >>


@BCStats on Twitter
B.C.'s unemployment rate was 4.1% in October (down 0.1% from September), maintaining B.C.'s position as the province with the lowest unemployment.



Follow @BCStats on Twitter


Current Surveys
Baccalaureate Graduates Survey

BC Hydro Workforce Profile Survey
BC Public Service Exit Survey
BC Public Service New Job Survey

Canada-BC Job Grant Outcomes Survey
FrontCounter BC Customer Satisfaction Survey

Long Term Disability (LTD) Application Process Survey

OCIO Client Satisfaction Survey



Online Games Survey

School District #72 (Campbell River) Employee Engagement Survey



You can read more about any of these by visiting our Current and Recent Surveys page.



Did You Know
Almost 3 in 10 Canadians are not subscribing to traditional cable or satellite television service, preferring to use online streaming services instead, an increase from 12% in 2012. Millenials (18-35 years of age) are leading this charge, with 48% of them either cancelling their subcriptions, or never having subscribed at all.
Source: Angus Reid



Headlines
The value of B.C.'s exports increased in the first nine months of this year, over the same period last year.

B.C.'s unemployment rate dropped slightly in October over the month before.

The Canadian economy grew in August for the seventh month in a row.