Edition: November 6, 2017
Resources
News by Sector
Economy
Government Operations
Multiculturalism
Services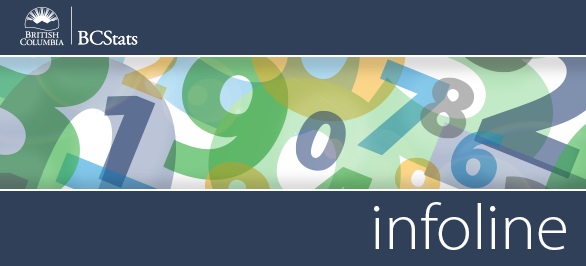 Infoline Highlights: Coverage for the week of October 30-November 3

Exports - The value of B.C. origin exports rose 17.1% in the first three quarters of 2017, compared to the same nine-month period in 2016. Exports to B.C.'s largest market, the United States, climbed 8.2%.
Read more >>
Labour Force Survey - The unemployment rate in British Columbia was 4.9% in October, unchanged from September and below the 6.1% it was 12 months ago. Compared to September, the labour force shrank (-5,500), with a decrease in employment (-6,100) and little change in the number of unemployed (+700).
Read more >>
Gross Domestic Product (GDP) - The Canadian economy slowed down in August, with real GDP at basic prices inching down 0.1% (seasonally adjusted) after stalling (+0.0%) in the previous month. The decline was largely due to weakness in the goods-producing industries, which contracted 0.7%.
Read more >>
Tourist Room Revenues - For most of British Columbia, room revenues rose during the month of August. On a year-over-year basis, B.C. Rockies (+15.1%), Northern B.C. (+14.9%), Vancouver, Coast and Mountains (+11.9%), and The Island (+2.7%) tourism regions all reported increases in revenues, while the Thompson/Okanagan (‑0.0%) tourism region remained virtually unchanged.
Read more >>
Bankruptcies - In August 2017, there was a decrease of 10.8% in overall bankruptcies compared to August 2016. Of the 314 bankruptcies, two were filed by businesses, a reduction of 80.0% compared to the 10 business bankruptcies registered in August last year.
Read more >>



@BCStats on Twitter
Bankruptcies in B.C. dropped 10.8% in August, compared to August 2016.

Follow @BCStats on Twitter


Current Surveys
Baccalaureate Graduate Survey
BC Hydro Workforce Profile Survey
BC Public Service Exit Survey
Building Occupants Survey

Canada-BC Job Grant Outcomes Survey
Camosun College 2017 Employee Engagement Survey
Elections BC Voters List Quality Survey
FrontCounter BC Customer Satisfaction Survey
Labour Market Agreement for Persons with Disabilities Outcome Survey
Liquor Distribution Branch Work Environment Survey 2017
Local Food Survey

Long Term Disability (LTD) Application Process Survey
New Job Survey

SDSI LMAPD Monthly Survey 2016-17
2017 BC Wildfire Service Auxiliary Work Environment Survey
You can read more about any of these by visiting our Current and Recent Surveys page.



Did You Know
29% of Canadians plan to attend a Remembrance Day ceremony this year, up 3% from last year. Millennials (age 18-34) are the most likely to attend (37%), ahead of Gen X'ers (age 35-54) at 23% and Baby Boomers (55 and over) (29%).
Source: Ipsos Canada


Headlines
The value of B.C.'s exports rose in September compared to the same period last year.

B.C.'s unemployment rate in October was unchanged from the month before.

The Canadian economy slowed down in August.