Edition: November 7, 2016
Resources
News by Sector
Economy
Government Operations
Multiculturalism
Services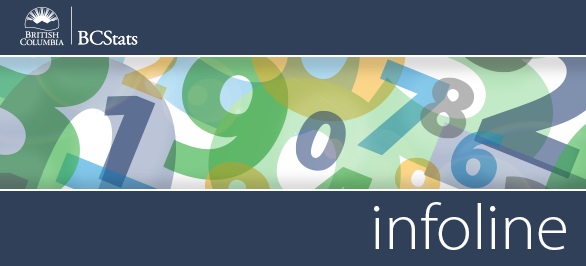 Infoline Highlights: Coverage for the week of October 31 - November 4

Exports - Year-to-date to September, the value of B.C.'s exports climbed 2.7% compared to the same nine-month period in 2015. An 8.1% jump in shipments to the U.S. drove much of the increase, as shipments to most other major destinations fell.
Read more >>
Labour Force Statistics - The unemployment rate in British Columbia was 6.2% in October, up from 5.7% in September. Even though employment increased since the previous month (+14,900), the labour force as a whole grew much more (+28,800).
Read more >>
Bankruptcies - Year-over-year, the number of consumer bankruptcies in the province was notably lower in August (-21.9%). There were 342 bankruptcies in August, compared to 438 in the same month of 2015.
Read more >>
Gross Domestic product (GDP) - Canadian real GDP by industry at basic prices (seasonally adjusted) advanced 0.2% in August following two consecutive monthly increases in June (+0.6%) and July (+0.4%).The goods-producing industries expanded 0.7% in August, led by a 2.4% increase in utilities.
Read more >>
Industrial Product Price Index - Weaker petroleum and coal product prices (-5.1%) were the main contributor to a 0.5% year-over-year decline in the Industrial Product Price Index (IPPI) in September. The IPPI was also pulled down by lower prices for primary ferrous metal (-3.8%), meat, fish, and dairy (-3.7%) and chemical (-2.1%) products.
Read more >>
Food Service and Drinking Places - Sales at British Columbia's food services and drinking places dipped 1.8% (seasonally adjusted) to $877.5 million between July and August. Nationally, revenues in the industry were down 1.1% to just over $5.4 billion, with the largest decreases registered in P.E.I (-2.6%) and Ontario (-2.5%).
Read more >>


@BCStats on Twitter
Growth in labour force pushed BC jobless rate up to 6.2% in Oct, but remains the lowest in Canada.
Follow @BCStats on Twitter


Current Surveys
Apprenticeship Student Outcomes (APPSO) Survey
Baccalaureate Graduate Survey
BC Hydro Workforce Profile Survey
BC Labour Market Agreement Outcomes Survey
BC Public Service - Career Development and Opportunities Survey
BC Public Service Exit Survey
Canada-BC Job Grant Outcomes Survey

Diploma, Associate Degree, and Certificate Student Outcomes (DACSO) Survey
HandyDART Client Survey
FrontCounter BC Customer Satisfaction Survey
Labour Market Agreement for Persons with Disabilities Outcome Survey
Long Term Disability (LTD) Application Process Survey
Office of the Information and Privacy Commissioner Work Environment Survey 2016
Procurement Transformation Survey (#BCTECH Strategy)
SDSI LMAPD Monthly Survey 2016-17
You can read more about any of these by visiting our Current and Recent Surveys page.



Did You Know
The 2015 Canadian election saw a greater turnout of voters (77% of the population) than in the past 20 years.
Source: Statistics Canada


Headlines
The value of B.C.'s exports rose in October.

The number of bankruptcies in August fell significantly from August 2015.

The Canadian GDP was up slightly in August.