Edition: October 1, 2018
Resources
News by Sector
Economy
Government Operations
Multiculturalism
Services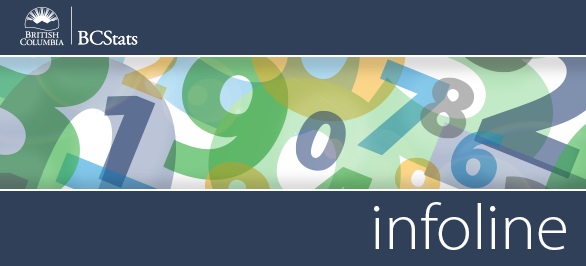 Infoline Highlights: Coverage for the week of September 24-28

Gross Domestic Product - The Canadian economy advanced 0.2% (seasonally adjusted) in July, following a flat reading (+0.0%) the prior month. Gross domestic product (GDP) in goods-producing industries expanded 0.3%.
Read more >>
U-Pass B.C. Program Report - Current students of Metro Vancouver public post-secondary institutions that participate in the U-Pass BC program, as well as graduates of the same institutions, were surveyed this spring to find out how they use transit.
Read more >>
Quarterly Population Highlights - The population of B.C. was estimated at 4,991,687 as of July 1, 2018, growing by 24,312 persons in the second quarter of 2018 (up 0.49% from April 1, 2018). Combined net in-migration from all sources (inter-provincial and international) totalled 22,325 persons during the second quarter of 2018, 10% higher than the same quarter in 2017.
Read more >>
Wholesale Sales - Wholesale sales in British Columbia rose 0.7% to $6.6 billion (seasonally adjusted) in July. The increase was led by the food, beverage and tobacco merchant wholesalers (+4.3%) and building material and supplies merchant wholesalers (+2.5%).
Read more >>




Current Surveys
BC Apprenticeship Discontinuers Survey
Baccalaureate Graduates Survey

BC Hydro Workforce Profile Survey
BC Public Service Exit Survey
BC Public Service New Job Survey

Canada-BC Job Grant Outcomes Survey
Community Living BC Employee Engagement Survey

Corporate Accounting Services (CAS) Client Satisfaction Survey

FrontCounter BC Customer Satisfaction Survey
New Job Survey
Online Games Survey

You can read more about any of these by visiting our Current and Recent Surveys page.



Did You Know
Aircraft take-offs and landings at 91 Canadian airports increased 0.3% in July 2018 compared to July 2017. Lester B. Pearson International in Ontario was Canada's busiest airport, followed by B.C.'s Vancouver International and Boundary Bay airports.
Source: Statistics Canada



Headlines
Canada's gross domestic product expanded in July.

B.C.'s population grew between April 1 and July 1.

Wholesale sales in B.C. increased in July.