Edition: October 10, 2017
Resources
News by Sector
Economy
Government Operations
Multiculturalism
Services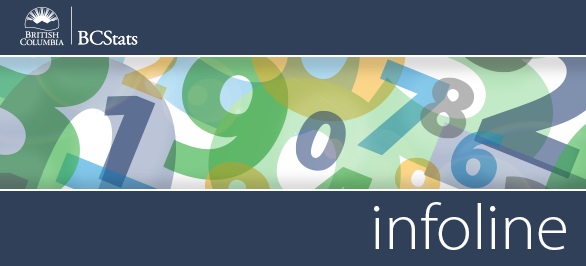 Infoline Highlights: Coverage for the week of October 2-6

Labour Force Survey -The unemployment rate in British Columbia was 4.9% in September, down from 5.1% in August and below the 5.6% it was 12 months ago. Compared to August, the labour force declined (-12,400), with decreases in employment (-6,700) and the number of unemployed (-5,800).
Read more >>
Exports - From January to August 2017, the value of B.C.'s commodity exports has jumped 17.8%, compared to the same eight-month period a year earlier. There has been strong growth in shipments to most major destinations, including the United States (+9.2%), Mainland China (+13.5%), Japan (+34.7%), South Korea (+45.9%), the European Union (+36.5%), India (+74.0%), Taiwan (+39.7%) and Hong Kong (+12.6%).
Read more >>
Bankruptcies - The number of bankruptcies registered by B.C. consumers fell 24.0% in July, compared to the same month in 2016. There was one additional business bankruptcy in that period, which translates to a 10.0% increase.
Read more >>
Industrial Product Price Index - Canadian manufacturers' selling prices climbed 1.9% in August, compared to the same month a year earlier. The increase was driven mainly by an 8.7% jump in prices of energy and petroleum products, which were pushed up largely by a 10.2% expansion in prices for motor gasoline.
Read more >>



@BCStats on Twitter
B.C. exports have increased 17.8% year-to-date to August, compared to a year earlier.

Follow @BCStats on Twitter


Current Surveys
Baccalaureate Graduate Survey
BC Hydro Workforce Profile Survey
BC Public Service Exit Survey
Canada-BC Job Grant Outcomes Survey
Elections BC Voters List Quality Survey
FrontCounter BC Customer Satisfaction Survey
Labour Market Agreement for Persons with Disabilities Outcome Survey
Liquor Distribution Branch Work Environment Survey 2017

Long Term Disability (LTD) Application Process Survey
New Job Survey

SDSI LMAPD Monthly Survey 2016-17
2017 BC Wildfire Service Auxiliary Work Environment Survey
You can read more about any of these by visiting our Current and Recent Surveys page.



Did You Know
B.C. is the third largest producer of turkeys in Canada, behind Ontario and Quebec. B.C. farmers produced 41,000 turkeys per year, more than the Canadian average.
Source: B.C. Turkey Industry Snapshot 2017


Headlines
B.C.'s commodity exports jumped in August compared to the same period a year earlier.

The employment rate in B.C. dropped in September compared to August.

The Industrial Product Price Index increased in August over the month before.