Edition: October 15-18, 2019
Resources
News by Sector
Economy
Government Operations
Multiculturalism
Services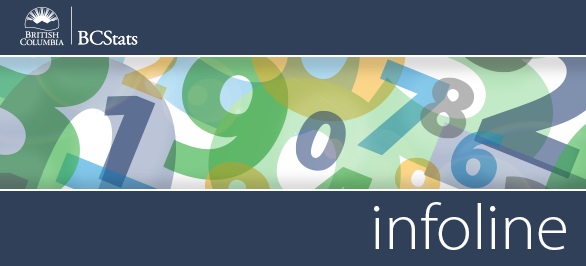 Infoline Highlights for the Week of October 15-18

Manufacturing Sales - Manufacturing sales in B.C. declined 1.4% (seasonally adjusted) in August. Sales of manufactured food (-1.6%) and paper (-1.8%) products were down, helping to drive total receipts for non-durables 3.9% lower. Meanwhile, hefty sales boosts of transportation (+39.7%) primary metal (+10.7%) and fabricated metal (+4.0%) products moderated declines among other large sectors
Read more >>
Consumer Price Index -British Columbia's consumer price index (CPI) was 2.4% higher (unadjusted) in September 2019 than in the same month of 2018. On a monthly basis, the CPI dropped 0.2% from August 2019. The overall annual inflation rate dropped to 2.1% when food and energy are excluded from the index.
Read more >>




Current Surveys
BC Hydro Workforce Profile Survey
BC Public Service Exit Survey
BC Public Service New Job Survey

BC Student Outcomes Survey of Baccalaureate Graduates




BC Wildfire Service Auxiliary Work Environment



FrontCounter BC Customer Satisfaction Survey

Long Term Disability (LTD) Application Process Survey

WES Pulse Check

Workforce Development Agreement Outcomes

Workforce Development Agreement Employer Outcomes



You can read more about any of these by visiting our Current Surveys page.



Did You Know
B.C. is relatively out of step with the other western provinces with regard to the federal election today. Four in ten British Columbians say that the Liberal party deserves to be re-elected, which is twice as high as the other western provinces.
Source: Global News


Headlines
Manufacturing sales in B.C. dipped in August.

B.C.'s consumer price index increased in September over September 2018.