Edition: October 15, 2018
Resources
News by Sector
Economy
Government Operations
Multiculturalism
Services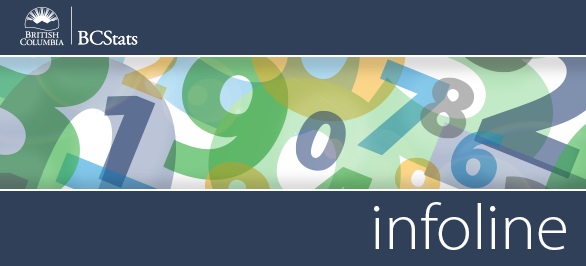 Infoline Highlights: Coverage for the week of October 8-12

Price of New Housing - The cost of new housing in B.C.'s two largest metropolitan areas continued to climb in August. In Victoria, new housing prices were 1.4% higher than the same month of 2017, while homebuilders in the Vancouver area received 1.0% more for their projects. Land costs inched up 0.5% in the Capital city, while the price of new housing increased 1.8%.
Read more >>
Building Permits - The value of building permits jumped 31.5% (seasonally adjusted) in August from the previous month. There were increases in permits for commercial (+97.5%), institutional (+62.2%), industrial (+29.2%), and residential (+16.5%) projects. The value of permits climbed in Vancouver (+66.4%), where most of the province's building activity occurs, as well as in Abbotsford-Mission (+10.7%). Kelowna (‑14.5%) and Victoria (‑9.2%) saw a decrease in building permits.
Read more >>




Current Surveys
Baccalaureate Graduates Survey

BC Hydro Workforce Profile Survey
BC Public Service Exit Survey
BC Public Service New Job Survey

Canada-BC Job Grant Outcomes Survey
FrontCounter BC Customer Satisfaction Survey

Long Term Disability (LTD) Application Process Survey

OCIO Client Satisfaction Survey



Online Games Survey

You can read more about any of these by visiting our Current and Recent Surveys page.



Did You Know
At $6.98/gram, B.C. has some of the lowest prices for marijuana (both recreational and medicinal use) in Canada, just behind Manitoba ($6.69/gram). The average price per gram nationally is approximately $7.48. based on crowdsourced data.
Source: Statistics Canada



Headlines
The cost of new housing in Vancouver and Victoria rose in August over the same month the year before.

The value of building permits in B.C. rose in August from the previous month.