Edition: October 16, 2017
Resources
News by Sector
Economy
Government Operations
Multiculturalism
Services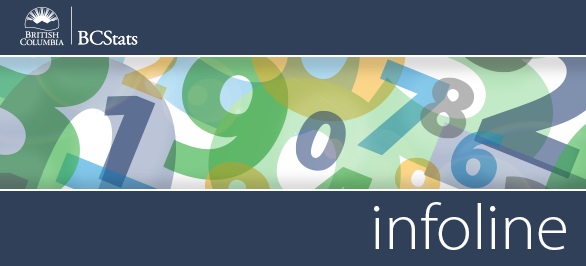 Infoline Highlights: Coverage for the week of October 10-16

Price of New Housing -In August, the cost of new housing in B.C. rose 6.9% compared to the same month a year earlier. Prices in Vancouver jumped 7.8% and there was a 3.0% increase in new housing prices in Victoria.
Read more >>
Building Permits -The value of building permits fell 9.9% (seasonally adjusted) in August from the previous month. A decrease in permits for residential (‑16.5%) and institutional (‑13.6) projects offset increases for industrial (+47.1%) and commercial (+17.0%) buildings.
Read more >>
Housing Starts - Housing starts in urban areas (areas with population of at least 10,000) in British Columbia increased 6.3% in September compared to August. The increase was broad-based as all subcomponents saw increases in the month, with the exception of row homes which saw a decline of 30.6%.
Read more >>



@BCStats on Twitter
In August, the value of building permits fell in Vancouver (-12.8%) and Victoria (15.6%).

Follow @BCStats on Twitter


Current Surveys
Baccalaureate Graduate Survey
BC Hydro Workforce Profile Survey
BC Public Service Exit Survey
Canada-BC Job Grant Outcomes Survey
Elections BC Voters List Quality Survey
FrontCounter BC Customer Satisfaction Survey
Labour Market Agreement for Persons with Disabilities Outcome Survey
Liquor Distribution Branch Work Environment Survey 2017

Long Term Disability (LTD) Application Process Survey
New Job Survey

SDSI LMAPD Monthly Survey 2016-17
2017 BC Wildfire Service Auxiliary Work Environment Survey
You can read more about any of these by visiting our Current and Recent Surveys page.



Did You Know
October is Breast Cancer Awareness Month. In British Columbia, breast cancer is the most common form of cancer in women - in 2012, 3198 women and 32 men were diagnosed with the disease.
Source: B.C. Cancer Agency


Headlines
In August, the cost of new housing in B.C. was higher than the same month a year before.

The value of B.C's building permits fell in August from the month before.

Housing starts in B.C. increased in September.