Edition: October 17, 2016
Resources
News by Sector
Economy
Government Operations
Multiculturalism
Services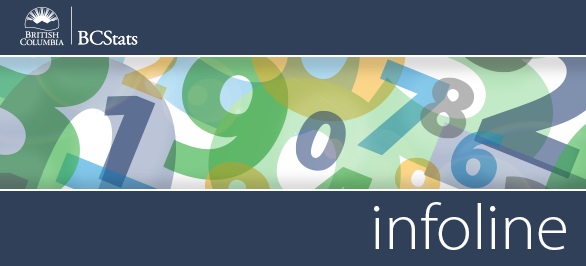 Infoline Highlights: Coverage for the week of October 11-14

Emergency Preparedness-In 2014, approximately nine in ten (86%) Canadians stated that winter storms (including blizzards, ice storms and extreme cold) were the most anticipated weather-related or natural disasters. This was the case across most provinces, with the exception of B.C., where more residents thought earthquakes were a potential risk.
Read more >>
Non-Residential Building Investment - Investment in non-residential building construction in B.C. amounted to $1.5 billion in the third quarter, down (-3.6%) from the second quarter. This marked the first quarterly decrease of 2016. The dip was due to slowed spending in the industrial (-7.8%), institutional and governmental (-4.2%) and commercial (-2.6%) sectors.
Read more >>
Price of New Housing - Year-over-year, contractors' selling prices for new homes (house and land) in British Columbia climbed 5.2% in August. The increase was entirely due to a jump in the average price for a new house, which saw a 7.6% boost from levels recorded in August of last year.
Read more >>
Housing Starts - Housing starts in the province's urban areas (at least 10,000 population) showed continued volatility in September, surging 39.0% (seasonally adjusted at annual rates), following a 9.8% dip in August. Nationally, urban starts were up 19.7% as gains in new home building activity were recorded in most regions, including particularly hefty boosts in Alberta (+51.0%), Quebec (+33.3%) and parts of Atlantic Canada.
Read more >>



Current Surveys
Apprenticeship Student Outcomes (APPSO) Survey
Baccalaureate Graduate Survey
BC Hydro Workforce Profile Survey
BC Labour Market Agreement Outcomes Survey
BC Public Service Exit Survey
Canada-BC Job Grant Outcomes Survey

Diploma, Associate Degree, and Certificate Student Outcomes (DACSO) Survey
HandyDART Client Survey
FrontCounter BC Customer Satisfaction Survey
HIBC Customer Experience Survey
Labour Market Agreement for Persons with Disabilities Outcome Survey
Long Term Disability (LTD) Application Process Survey
Office of the Information and Privacy Commissioner Work Environment Survey 2016
SDSI LMAPD Monthly Survey 2016-17
Service BC Centres In-Person Survey

You can read more about any of these by visiting our Current and Recent Surveys page.



Did You Know
While one in three Canadians say they don't make enough money to cover their bills, British Columbians are among the least likely to feel that way - only 20% of British Columbians feel that they can't cover their bills, compared to Ontario and Alberta (35% each), and Saskatchewan and Manitoba (34% each).
Source: Ipsos Canada


Headlines
People in B.C. prepare for earthquakes, not winter storms.

Non-residential building construction investment slipped in the third quarter.

The cost of new housing in B.C. jumped in August.