Edition: October 2, 2016
Resources
News by Sector
Economy
Government Operations
Multiculturalism
Services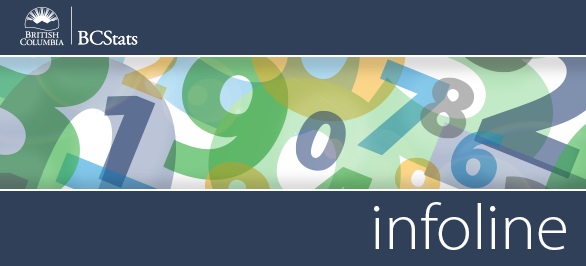 Infoline Highlights: Coverage for the week of September 26-30

Gross Domestic Product (GDP) - Canadian real GDP by industry at basic prices (seasonally adjusted) advanced 0.5% in July following a 0.6% increase in June.
Read more >>
Industrial Product Price Index (IPPI) - The Industrial Product Price Index (IPPI), which measures average price changes that Canadian producers received for their products, slipped 0.5% in August.
Read more >>
Bankruptcies - There were 404 bankruptcies filed by consumers in British Columbia in July, a 15.1% decline from July 2015.
Read more >>
Food Services and Drinking Places - Total receipts in British Columbia's food service and drinking places industry were 2.6% higher (seasonally adjusted) in July, an eighth consecutive monthly increase.
Read more >>
Quarterly Population Highlights - The population of B.C. was estimated at 4,751,612 as of July 1, 2016, growing by 21,935 persons in the second quarter of 2016 (up 0.5% from April 1, 2016).
Read more >>
Tourism Room Revenues - Room revenues continued to exhibit strong growth across British Columbia during the month of July.
Read more >>
Retail Sales - Retail sales in the province bucked the national trend in July as sales climbed 0.9% (seasonally adjusted).
Read more >>


@BCStats on Twitter
Canadian producers of industrial products receive 0.5% less for their products in August.
Follow @BCStats on Twitter


Current Surveys
Apprenticeship Student Outcomes (APPSO) Survey
Baccalaureate Graduate Survey
BC Hydro Workforce Profile Survey
BC Labour Market Agreement Outcomes Survey
BC Public Service Exit Survey
Canada-BC Job Grant Outcomes Survey

Diploma, Associate Degree, and Certificate Student Outcomes (DACSO) Survey
HandyDART Client Survey
FrontCounter BC Customer Satisfaction Survey
HIBC Customer Experience Survey
Labour Market Agreement for Persons with Disabilities Outcome Survey
Long Term Disability (LTD) Application Process Survey

SDSI LMAPD Monthly Survey 2016-17
Service BC Centres In-Person Survey

You can read more about any of these by visiting our Current and Recent Surveys page.



Did You Know
Households in British Columbia that paid 30% or more of household total income toward shelter costs represented 30.3% of non-farm, non-reserve households with total income greater than zero. This proportion was higher than the national proportion (25.2%).
Source: Statistics Canada


Headlines
Both goods-producing industries and service-producing industries increased in July.

B.C. just had the largest second quarter population growth recorded in the last two decades.

Tourism revenue growth in B.C. was led by the Vancouver, Coast and Mountains tourism region.