Edition: October 21-25, 2019
Resources
News by Sector
Economy
Government Operations
Multiculturalism
Services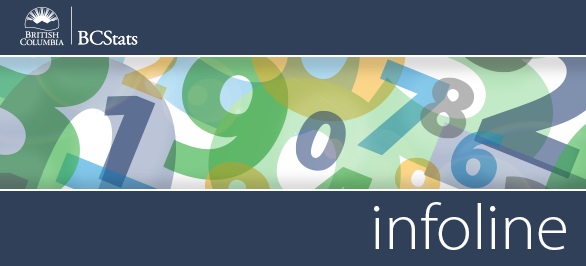 Infoline Highlights for the Week of October 21-25

Employment Insurance - The number of British Columbians receiving regular Employment Insurance (EI) benefits decreased slightly (-0.7% seasonally adjusted) in August, to 42,300. Nationally, EI beneficiaries inched 0.4% higher between July and August, to reach 453,240.
Read more >>
Wholesale Sales - Sales by wholesalers in the province inched down in August (-0.3%), nearly reversing a similar increase recorded in the previous month (+0.5% in July). The slowdown in August was due mostly to losses in the machinery, equipment and supplies (-1.0%), motor vehicle (-3.9%) and miscellaneous (-5.8%) subsectors.
Read more >>
Retail Sales - Retail sales in British Columbia climbed 0.8% (seasonally adjusted) in August, following a lacklustre July (-0.1%). Nationally, retail sales mirrored those of B.C., stalling -0.1% in August, having shown strength in July (+0.6%)
Read more >>
Visitor Entries - International visitor entries to Canada through British Columbia was down (-0.9% seasonally adjusted) in August, as the number of visitors from the U.S. continued to slow (-0.5%). Meanwhile, the number of guests from overseas also declined (-1.9%)
Read more >>
Food Services and Drinking Places - Receipts at food services and drinking places in B.C. were relatively unchanged (-0.1% seasonally adjusted) in August. Canadian establishments saw receipts inched up (+0.3%) despite revenues declining in seven provinces.
Read more >>
Building Investment - Total investment in building construction in B.C. dipped in August, decreasing 3.1% (seasonally adjusted) to $2.7 billion. Investment in non-residential building construction in the province was 1.9% higher than in July
Read more >>
Small Business Profile - In 2018, British Columbia's small business GDP accounted for 34% of the provincial GDP, well above the Canadian average of 30%. This measure indicates that small business in British Columbia plays a more significant role in the provincial economy than it does in most other parts of the country.
Read more >>





Current Surveys
BC Hydro Workforce Profile Survey
BC Public Service Exit Survey
BC Public Service New Job Survey

BC Student Outcomes Survey of Baccalaureate Graduates




BC Wildfire Service Auxiliary Work Environment



FrontCounter BC Customer Satisfaction Survey

Long Term Disability (LTD) Application Process Survey

WES Pulse Check

Workforce Development Agreement Outcomes

Workforce Development Agreement Employer Outcomes



You can read more about any of these by visiting our Current Surveys page.



Did You Know
7.4% of Canadian elementary and secondary school students attended private schools in 2017/2018, with B.C. (13.1%) and Quebec (9.6%) having the highest provincial rates of private school enrollment.
Source: Statistics Canada


Headlines
There were fewer British Columbians receiving employment insurance benefits in August than in July.

B.C.'s retail sales were higher in August than July.

Building investment in B.C. was down in August from the month before.