Edition: October 22, 2018
Resources
News by Sector
Economy
Government Operations
Multiculturalism
Services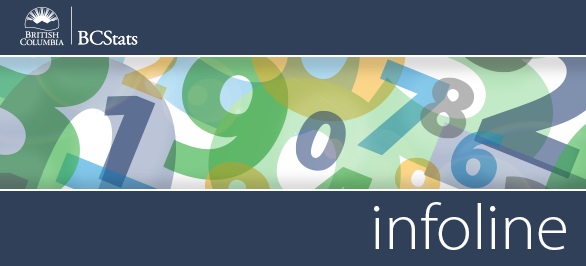 Infoline Highlights: Coverage for the week of October 15-19

Consumer Price Index - British Columbia's consumer price index (CPI) was 2.5% higher (unadjusted) in September than in the same month of last year. On a monthly basis, the rate of inflation was down 0.5% from August 2018.
Read more >>
Retail Sales - Sales by retailers in the province were down slightly (-0.1%, seasonally adjusted) in August, marking the fourth consecutive lacklustre month. Canadian retail sales also inched down 0.1%, with declines seen in 7 of the 11 subsectors.
Read more >>
Employment Insurance -The number of regular Employment Insurance (EI) recipients in B.C. inched down (-0.9% seasonally adjusted) to 42,200 in August. An increase in the number of male beneficiaries (+3.4%) was offset by a decline among female recipients (-6.2%).
Read more >>
Manufacturing Sales - Manufacturing sales in B.C. climbed 0.6% (seasonally adjusted) in August. Sales of manufactured food products were up for a fifth straight month (+1.1%), helping to drive total receipts for non-durables 1.9% higher.
Read more >>
Small Business Profile 2018 - The Small Business Profile explores the role of small business in B.C. and the sector's contribution to the economy by examining trends in growth, as well as cross-provincial comparisons for 2016/17. There were a total of 501,300 businesses in B.C. in 2017. Of these, 493,100 (98 per cent) were small businesses with fewer than 50 employees.
Read more >>




Current Surveys
Baccalaureate Graduates Survey

BC Hydro Workforce Profile Survey
BC Public Service Exit Survey
BC Public Service New Job Survey

Canada-BC Job Grant Outcomes Survey
FrontCounter BC Customer Satisfaction Survey

Long Term Disability (LTD) Application Process Survey

OCIO Client Satisfaction Survey



Online Games Survey

You can read more about any of these by visiting our Current and Recent Surveys page.



Did You Know
In B.C., the rate of immunization against the flu has increased between 2003 (29%) and 2014 (33%), but at a slower rate than all other provinces except for Ontario and Quebec.
Source: Statistics Canada



Headlines
B.C.'s consumer price index increased in September from September 2017.

Retail sales in B.C. dropped slightly in August from the month before.

The number of people in B.C. receiving employment insurance benefits decreased in August from the previous month.