Edition: October 23, 2017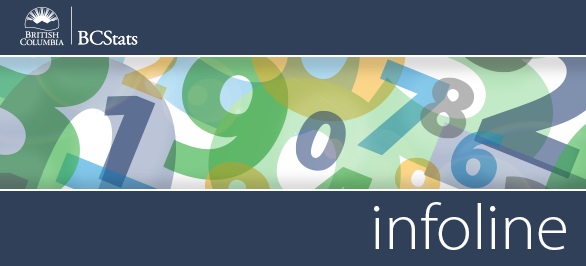 Infoline Highlights: Coverage for the week of October 16-20

Retail Sales -Retail sales in British Columbia fell by 1.0% in August compared to July, mainly due to a decline in sales at food and beverage, and general merchandise stores. Notable increases were observed at motor vehicle and parts dealers, and clothing and clothing accessories stores.
Read more >>
Consumer Price Index -British Columbia's consumer price index (CPI) rose 2.0% (unadjusted) in September compared to the same month of the previous year. The year-over-year rate of inflation was unchanged from August.
Read more >>
Employment Insurance - The number of people receiving employment insurance (EI) benefits in British Columbia decreased by 400 (‑0.8%) in August compared to the previous month, to reach 50,530 individuals. The decline was due to a lower number of female recipients (‑2.5%), as the number of male beneficiaries was up by 0.5%..
Read more >>
Visitor Entries -In August, B.C. welcomed almost 651 thousand non-resident travellers (seasonally adjusted), of which about three quarters were from the United States. Non-resident traveller entries to Canada through British Columbia decreased (‑0.1%) in the month.
Read more >>
Manufacturing Sales - B.C. manufacturing sales (seasonally adjusted) went up by 0.8% in August compared to July, led by increases in wood product (+3.2%) and primary metal (+5.3%) manufacturing. The increase was widespread, with both the durable and non-durable goods components gaining ground in the month.
Read more >>
Non-Residential Building Investment - There was a 1.7% increase (seasonally adjusted) in investment in non-residential building construction in B.C. in the third quarter of 2017, compared to the second quarter. The strongest growth was for the industrial sector (+6.7%), but there was also growth in institutional (+3.5%) and commercial (+0.2%) buildings.
Read more >>
Small Business Profile
-There were a total of 396,100 small businesses operating in British Columbia in 2016, representing around 98% of all businesses in the province. This was a 1.9% increase over the small business count in 2015.
Read more >>



@BCStats on Twitter
In 2016, B.C. had the most small businesses per capita in Canada, and they collectively employed over 1 million people.

Follow @BCStats on Twitter


Current Surveys
Baccalaureate Graduate Survey
BC Hydro Workforce Profile Survey
BC Public Service Exit Survey
Building Occupants Survey

Canada-BC Job Grant Outcomes Survey
Elections BC Voters List Quality Survey
FrontCounter BC Customer Satisfaction Survey
Labour Market Agreement for Persons with Disabilities Outcome Survey
Liquor Distribution Branch Work Environment Survey 2017

Long Term Disability (LTD) Application Process Survey
New Job Survey

SDSI LMAPD Monthly Survey 2016-17
2017 BC Wildfire Service Auxiliary Work Environment Survey
You can read more about any of these by visiting our Current and Recent Surveys page.



Did You Know
There were 823 suspected illicit drug overdose deaths with fentanyl detected in B.C from January 2017 through August 2017, a 151% increase over the same time period in 2016.
Source: B.C. Coroners Service


Headlines
B.C.'s consumer price index was higher in September compared to September 2016.

Small businesses in B.C account for 98% of all businesses in the province.

B.C's manufacturing sales went up in August compared to July.