Edition: October 24, 2016.
Resources
News by Sector
Economy
Government Operations
Multiculturalism
Services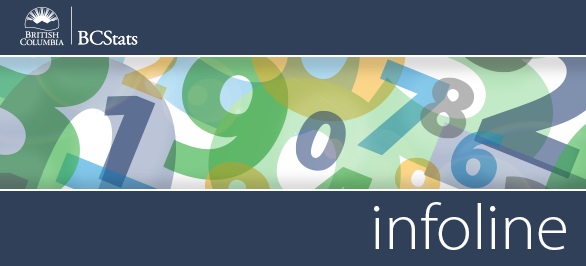 Infoline Highlights: Coverage for the week of October 17-21

Consumer Price Index (CPI) - British Columbia's consumer price index (CPI) climbed 1.8% (unadjusted) in September, compared to the same month of the previous year. This marks a small decrease in the year-over-year rate of inflation since August, when it was 2.0%.
Read more >>
Visitor Entries - Visitor entries to Canada via British Columbia slipped 1.0% (seasonally adjusted) in August. The number of American entries inched down (-0.9%), but this was overshadowed by a dip (-1.4%) in non-U.S. entries, particularly from Asia (-1.9%) and Europe (-0.7%).
Read more >>
Employment Insurance - In August, 53,570 British Columbians were recipients of regular Employment Insurance (EI) benefits, a decrease of 2.6% (seasonally adjusted) over July. Nationally, the number of Canadians receiving regular benefits dipped 3.0%, partly as a result of hefty drop-offs in the number of claimants in Alberta (-17.3%) and Saskatchewan (-17.9%).
Read more >>
Small Business Report - British Columbia small businesses generated approximately 35% of the province's gross domestic product in 2015, well above the Canadian average of 32%. This measure indicates that small business in British Columbia plays a more significant role in the provincial economy than it does in most other parts of the country.
Read more >>
Manufacturing Sales - Manufacturing sales in British Columbia climbed 2.1% (seasonally adjusted) in August, a notably higher rate than for Canada as a whole (+0.9%). B.C. producers of electrical equipment, appliance and component goods (+12.8%), leather and allied products (+10.5%) and primary metal (+6.3%) made the strongest gains.
Read more >>




Current Surveys
Apprenticeship Student Outcomes (APPSO) Survey
Baccalaureate Graduate Survey
BC Hydro Workforce Profile Survey
BC Labour Market Agreement Outcomes Survey
BC Public Service Exit Survey
Canada-BC Job Grant Outcomes Survey

Diploma, Associate Degree, and Certificate Student Outcomes (DACSO) Survey
HandyDART Client Survey
FrontCounter BC Customer Satisfaction Survey
Labour Market Agreement for Persons with Disabilities Outcome Survey
Long Term Disability (LTD) Application Process Survey
Office of the Information and Privacy Commissioner Work Environment Survey 2016
Procurement Transformation Survey (#BCTECH Strategy)
SDSI LMAPD Monthly Survey 2016-17
You can read more about any of these by visiting our Current and Recent Surveys page.



Did You Know
Canadians love their apples! Apple cultivating came to Canada via early French settlers, and today Canadians still enjoy them, spending an average of $64 on apples in 2014.
Source: Twitter


Headlines
B.C.'s consumer price index rose slighly in September.

B.C. small businesses employ over 1 million people.

Tourist visits to B.C. slipped 1.0% in August.