Edition: October 28-November 1, 2019
Resources
News by Sector
Economy
Government Operations
Multiculturalism
Services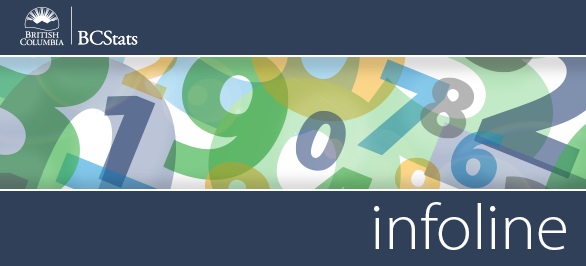 Infoline Highlights for the Week of October 28-November 1

Industrial Product Price Index - Prices for Canadian manufactured goods were 1.3% lower in September compared to the same month of 2018. Energy and petroleum (-10.2%) and, to a lesser degree, chemical (-4.7%) products were the main causes of the overall deflation.
Read more >>
Average Weekly Earnings - Average weekly earnings of payroll employees in British Columbia climbed $6.32 (+0.6%) to $1,001.68 (seasonally adjusted) in August. At the industrial level, earnings were up most notably in educational services (+4.2%), management of companies and enterprises (+4.2%) and manufacturing (+3.4%).
Read more >>
Gross Domestic Product - Canada's economy expanded slightly in August, with real GDP inching up 0.1% (seasonally adjusted) from the previous month. The goods sector posted a modest 0.2% increase as GDP in manufacturing rebounded (+0.5%).
Read more >>





Current Surveys
BC Hydro Workforce Profile Survey
BC Public Service Exit Survey
BC Public Service New Job Survey

BC Student Outcomes Survey of Baccalaureate Graduates




BC Wildfire Service Auxiliary Work Environment



FrontCounter BC Customer Satisfaction Survey

Long Term Disability (LTD) Application Process Survey

OCIO ES Client Satisfaction Survey




WES Pulse Check

Workforce Development Agreement Outcomes

Workforce Development Agreement Employer Outcomes



You can read more about any of these by visiting our Current Surveys page.



Did You Know
A new poll commissioned by London Drugs suggests that 36% of B.C. residents don't expect to get a flu shot this year, despite the fact that almost 83% of respondents feel that the flu shot prevents hospitalizations and saves lives. In 2017-2018, almost 4,000 people in B.C. got the flu.
Source: CTV News


Headlines
The IPPI was lower in September than September 2018.

B.C. employees earned more in August than in July.

Canada's GDP increased in August from the month before.