Edition: October 29, 2018
Resources
News by Sector
Economy
Government Operations
Multiculturalism
Services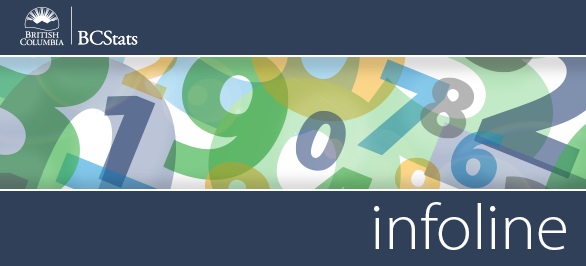 Infoline Highlights: Coverage for the week of October 22-26

Visitor Entries - International visitor entries to Canada through British Columbia increased (+0.6%, seasonally adjusted) in August, as the number of visitors from the U.S. continued to climb (+0.7%). The number of guests from overseas was also up (+0.5%), with more European (+0.3%), Asian (+0.5%), African (+1.1%) and South American (+20.7%) visitors coming to B.C.
Read more >>
Food Services and Drinking Places - Receipts at food services and drinking places in B.C. continued to climb in August, increasing 0.8% (seasonally adjusted). Meanwhile, Canadian sales stalled (-0.1%), with six provinces posting declines.
Read more >>
Wholesales Sales - Wholesale sales in the province rose 2.0% (seasonally adjusted) in August, reaching the highest level on record. Strong sales in three subsectors, miscellaneous (+6.9%), food, beverage and tobacco (+3.3%) and machinery, equipment and supplies (+2.3%), explained much of the increase.
Read more >>
Non-Residential Building Investment - Investment in non-residential building construction in B.C. was up (+4.0%, seasonally adjusted) in the third quarter. Spending on new buildings declined in the industrial (-2.5%) sector, but increased in the institutional (+1.2%) and commercial (+6.6%) sectors.
Read more >>


@BCStats on Twitter
B.C.'s food services and drinking places' receipts increased 0.8% in August.



Follow @BCStats on Twitter


Current Surveys
Baccalaureate Graduates Survey

BC Hydro Workforce Profile Survey
BC Public Service Exit Survey
BC Public Service New Job Survey

Canada-BC Job Grant Outcomes Survey
FrontCounter BC Customer Satisfaction Survey

Long Term Disability (LTD) Application Process Survey

OCIO Client Satisfaction Survey



Online Games Survey

School District #72 (Campbell River) Employee Engagement Survey



You can read more about any of these by visiting our Current and Recent Surveys page.



Did You Know
B.C. farmers planted 935 acres of pumpkins in 2017, producing almost 13,000 tons.
Source: Statistics Canada



Headlines
Visitor entries to B.C. grew in August.

August saw an increase in B.C.'s wholesale sales.

Investment in non-residential building constuction rose in 2018's third quarter.