Edition: October 30, 2017
Resources
News by Sector
Economy
Government Operations
Multiculturalism
Services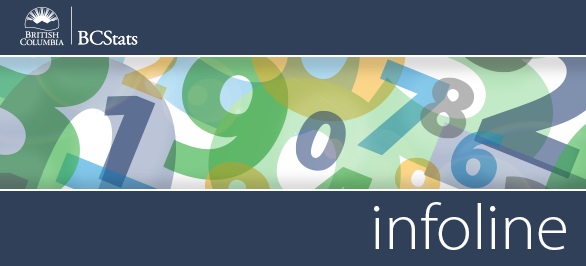 Infoline Highlights: Coverage for the week of October 23-27

2016 Census: Highlights from the Indigenous People in Canada Release - Indigenous people represented 5.9% of B.C.'s population in 2016. The majority of Indigenous people of B.C. are First Nations.
Read more >>
2016 Census: Highlights from the Housing in Canada Release - Of the almost 1.9 million households in B.C. in 2016, 68.0% owned their home. The homeownership rate has fallen slightly compared to the 70.0% homeownership rate in 2011.
Read more >>
Average Weekly Earnings - Average weekly earnings of payroll employees in British Columbia (seasonally adjusted, current dollars) went up by $3.46 (+0.4%) to reach $940.31 in August. Compared to August 2016, average weekly earnings in British Columbia increased by 2.2%, ranking fourth among provinces.
Read more >>
2016 Census: Highlights from the Immigration and Ethnocultural Diversity in Canada Release - Almost 1.3 million or 28.3% of British Columbians are immigrants. Of those, around 100,000 are non‑permanent residents.
Read more >>
Food Services and Drinking Places - Revenues generated in British Columbia's food service and drinking places industry grew 0.2% (seasonally adjusted) in August. The increase was widespread, with all subcategories reporting increases in the month except full-service restaurants.
Read more >>
Wholesale Sales - Sales by wholesalers in British Columbia rose for the fourth consecutive month in August to reach $6.7 billion, a 0.7% increase (seasonally adjusted) compared to the previous month. The rise was led by higher sales of miscellaneous (+10.8%), and machinery, equipment and supplies (+7.6%) merchant wholesalers.
Read more >>




@BCStats on Twitter
B.C. cities have some of the largest proportions of households living in a condo in the country.

Follow @BCStats on Twitter


Current Surveys
Baccalaureate Graduate Survey
BC Hydro Workforce Profile Survey
BC Public Service Exit Survey
Building Occupants Survey

Canada-BC Job Grant Outcomes Survey
Camosun College 2017 Employee Engagement Survey
Elections BC Voters List Quality Survey
FrontCounter BC Customer Satisfaction Survey
Labour Market Agreement for Persons with Disabilities Outcome Survey
Liquor Distribution Branch Work Environment Survey 2017
Local Food Survey

Long Term Disability (LTD) Application Process Survey
New Job Survey

SDSI LMAPD Monthly Survey 2016-17
2017 BC Wildfire Service Auxiliary Work Environment Survey
You can read more about any of these by visiting our Current and Recent Surveys page.



Did You Know
65% of British Columbian's said they will hand out Halloween treats to trick-or-treaters, well above the national average of 54%.
Source: Vancouver Sun


Headlines
Home ownership in B.C. has fallen slightly since 2011.

Average weekly earnings in B.C rose in August from the month before.

Almost 14% of B.C.'s immigrants arrived between 2010 and 2016.