Edition: October 31, 2016
Resources
News by Sector
Economy
Government Operations
Multiculturalism
Services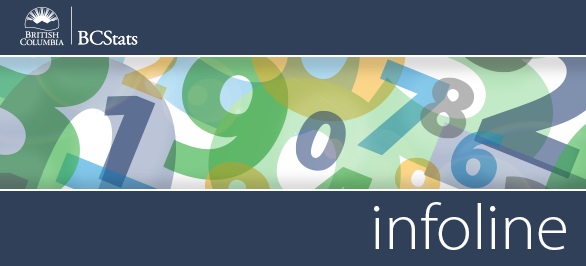 Infoline Highlights: Coverage for the week of October 24-28

Births and Fertility - There were 43,779 live births in British Columbia in 2013, down 0.5% from the number recorded in 2012. Nationally, births registered totalled 380,323, a decrease of 0.4% over the previous year.
Read more >>
Wholesale Sales - Wholesale sales in B.C. moved ahead 1.7% (seasonally adjusted) in August, the fourth gain in five months. Canadian sales were 0.8% higher, with most provinces posting increases.
Read more >>
Retail Sales - Total retail sales in British Columbia stalled (-0.0% seasonally adjusted) in August after showing strength (+0.8%) in the previous month. Nationally, retail sales inched down 0.1%, due mostly to lower sales at motor vehicle and parts dealers (-0.5%) and general merchandise stores (-0.9%).
Read more >>



Current Surveys
Apprenticeship Student Outcomes (APPSO) Survey
Baccalaureate Graduate Survey
BC Hydro Workforce Profile Survey
BC Labour Market Agreement Outcomes Survey
BC Public Service Exit Survey
Canada-BC Job Grant Outcomes Survey

Diploma, Associate Degree, and Certificate Student Outcomes (DACSO) Survey
HandyDART Client Survey
FrontCounter BC Customer Satisfaction Survey
Labour Market Agreement for Persons with Disabilities Outcome Survey
Long Term Disability (LTD) Application Process Survey
Office of the Information and Privacy Commissioner Work Environment Survey 2016
Procurement Transformation Survey (#BCTECH Strategy)
SDSI LMAPD Monthly Survey 2016-17
You can read more about any of these by visiting our Current and Recent Surveys page.



Did You Know
Boo! The estimated number of children in Canada of prime trick-or-treating age—5 to 14 years old—in 2016 is 3, 870,938, up 1.4% from 2015.
Source: Statistics Canada


Headlines
B.C.'s live births in 2013 are down from live births in 2012.

Wholesale sales rose in August.

Retail sales slipped in August.