Edition: October 5, 2017
Resources
News by Sector
Economy
Government Operations
Multiculturalism
Services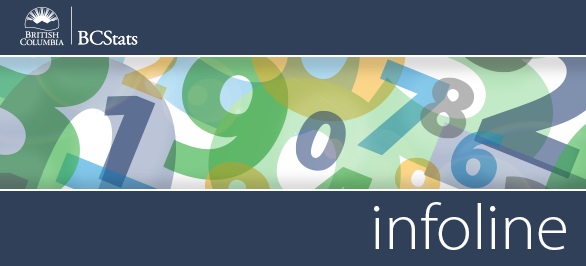 Infoline Highlights: Coverage for the week of September 25-29

Gross Domestic Product (GDP) -Canadian real GDP by industry at basic prices (seasonally adjusted) was essentially unchanged in July. The goods-producing industries contracted 0.5% in July as mining, quarrying, and oil & gas extraction (-1.2%), construction (-0.5%), manufacturing (-0.4%) and agriculture, forestry, fishing & hunting (-0.4%) all posted declines.
Read more >>
Tourism Room Revenues - In general, room revenues rose in British Columbia during the month of July. On a year-over-year basis, Northern B.C. (+8.5%), B.C. Rockies (+7.9%), Vancouver, Coast and Mountains (+5.8%), and The Island (+4.6%) tourism regions all reported increases in revenues, while the Thompson/Okanagan (‑0.0%) tourism region remained virtually unchanged.
Read more >>
Average Weekly Earnings - Average weekly earnings of payroll employees in British Columbia (seasonally adjusted, current dollars) fell slightly by $1.00 (‑0.1%) to reach $941.26 in July. Compared to July 2016, average weekly earnings in British Columbia increased by 3.3%, the fastest growth among provinces.
Read more >>
Quarterly Population Highlights - The population of B.C. was estimated at 4,817,160 as of July 1, 2017, growing by 21,269 persons in the second quarter of 2017 (up 0.44% from April 1, 2017). Combined net in-migration from all sources (inter-provincial and international) totaled 19,137 persons during the second quarter of 2017, lower than the same quarter in 2016.
Read more >>
Student Outcomes - Student Outcomes has released two new publications and an infographic. Click on the links below to find out who the former apprentices are, what they thought of their training, and what they are doing now, and to gain a deeper understanding of the former associate degree, diploma, and certificate students who return to school.
Read more >>
Food Services and Drinking Places - Revenues generated in British Columbia's food service and drinking places industry grew 1.1% (seasonally adjusted) in July. The increase was widespread, with all subcategories reporting increases in the month, led by full-service restaurants.
Read more >>




@BCStats on Twitter
Revenues generated by B.C.'s food services and drinking places in July grew 1.1%

Follow @BCStats on Twitter


Current Surveys
Baccalaureate Graduate Survey
BC Hydro Workforce Profile Survey
BC Public Service Exit Survey
Building Occupants Survey

Canada-BC Job Grant Outcomes Survey
FrontCounter BC Customer Satisfaction Survey
Labour Market Agreement for Persons with Disabilities Outcome Survey
Liquor Distribution Branch Work Environment Survey 2017

Long Term Disability (LTD) Application Process Survey
New Job Survey

SDSI LMAPD Monthly Survey 2016-17
2017 BC Wildfire Service Auxiliary Work Environment Survey
You can read more about any of these by visiting our Current and Recent Surveys page.



Did You Know
According to the Economist's Big Mac Index, the Canadian dollar is undervalued by 12.2% compared to the U.S. dollar (as of July 2017).
Source: The Economist


Headlines
B.C.'s population grew slightly in 2017's second quarter.

Overall, B.C.'s GDP in July was unchanged from June.

July's average weekly earnings in B.C. were higher than in July 2016.