Edition: October 7-11, 2019
Resources
News by Sector
Economy
Government Operations
Multiculturalism
Services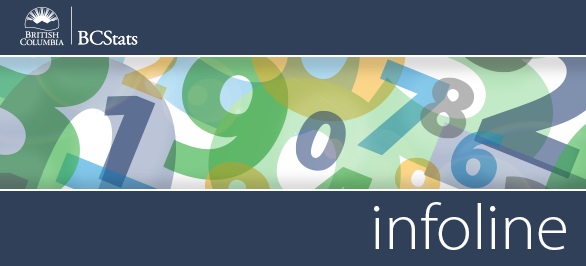 Infoline Highlights for the Week of October 7-11

Labour Force Statistics - The unemployment rate in British Columbia was 4.8% in September, down (‑0.2 points) from August but up (+0.6 points) from 12 months ago. Overall, the labour force decreased (‑12,800) and there were fewer jobs (‑8,400) in September.
Read more >>
Price of New Housing - Compared to the same month last year, the cost of new housing in the province's three largest cities continued to ease in August. The New Housing Price Index dipped notably in Vancouver (-1.3%) and Victoria (-1.7%), as lower housing costs (-2.2% in Vancouver and -2.9% in Victoria) offset slight increases in land values in both areas (+0.4% and +0.7%, respectively).
Read more >>
Quarterly Population Highlights - The population of B.C. was estimated at 5,071,336 as of July 1, 2019, growing by 24,556 persons in the second quarter of 2019 (up 0.49% from April 1, 2019). Combined net in-migration from all sources (inter-provincial and international) totalled 22,879 persons during the second quarter of 2019, slightly less than the same quarter in 2018.
Read more >>




Current Surveys
BC Hydro Workforce Profile Survey
BC Public Service Exit Survey
BC Public Service New Job Survey

BC Student Outcomes Survey of Baccalaureate Graduates




BC Wildfire Service Auxiliary Work Environment



FrontCounter BC Customer Satisfaction Survey

Long Term Disability (LTD) Application Process Survey

WES Pulse Check

Workforce Development Agreement Outcomes

Workforce Development Agreement Employer Outcomes



You can read more about any of these by visiting our Current Surveys page.



Did You Know
The majority (58%) of Canadians feel that their province's economy is in good shape, with people from Quebec (75%), B.C. (63%) and Ontario (60%) being most likely to believe this.
Source: Ipsos


Headlines
B.C.'s unemployment rate decreased in September from the month before.

The New Housing Price Index dipped in August for B.C.'s three largest cities.

B.C.'s population grew in the second quarter of 2019.