Edition: October 9, 2018
Resources
News by Sector
Economy
Government Operations
Multiculturalism
Services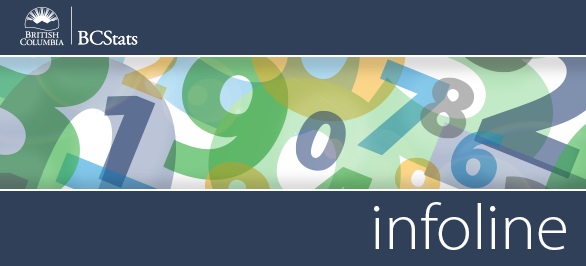 Infoline Highlights: Coverage for the week of October 1-5

Labour Force Statistics - The unemployment rate in British Columbia was 4.2% in September, down 1.1 percentage points from August and 0.7 percentage points from 12 months ago. The labour force (+6,900) did not increase as much as the number of employed (+33,300) in September. Compared to 12 months ago, employment growth (+43,000) has outpaced increases in the labour force (+27,700).
Read more >>
Exports - B.C. origin exports climbed 7.0% over the first eight months of 2018, compared to the January to August period a year earlier. Shipments increased to most major destinations, including the United States (+3.5%), Mainland China (+10.9%), Japan (+3.2%), the European Union (+17.0%), India (+48.2%) and Taiwan (+35.9%). South Korea (-3.4%), Australia (-7.7%) and Mexico (-40.7%) bucked the trend, with a decline in exports to those destinations.
Read more >>




Current Surveys
Baccalaureate Graduates Survey

BC Hydro Workforce Profile Survey
BC Public Service Exit Survey
BC Public Service New Job Survey

Canada-BC Job Grant Outcomes Survey
FrontCounter BC Customer Satisfaction Survey

Long Term Disability (LTD) Application Process Survey

OCIO Client Satisfaction Survey



Online Games Survey

You can read more about any of these by visiting our Current and Recent Surveys page.



Did You Know
B.C. has the third highest number (22, 124) of social and affordable housing units in Canada, and 70% of the owners of these units have an asset management plan for them, behind only Ontario.
Source: Statistics Canada



Headlines
The unemployment rate in B.C. dropped in September.

B.C. exports increased year-to-date to August compared to the same period in 2017.