Edition: September 10, 2018
Resources
News by Sector
Economy
Government Operations
Multiculturalism
Services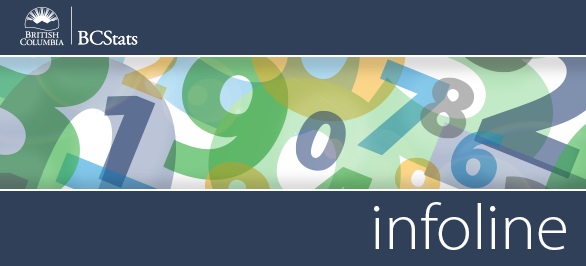 Infoline Highlights: Coverage for the week of September 3-7

Labour Force Statistics - The unemployment rate in British Columbia was 5.3% in August, up 0.3 percentage points from July and from 12 months ago. The labour force (+18,100) and the number of employed (+9,900) also increased from the previous month.
Read more >>
Building Permits -The value of building permits fell 11.0% (seasonally adjusted) in July from the previous month. Increases in permits for industrial (+67.6%) and institutional (+14.4%) buildings could not offset decreases for residential (‑15.4%) and commercial (‑5.9%) projects.
Read more >>
Exports - Through the first seven months of 2018, B.C. origin exports climbed 5.3% compared to the same period in 2017. There were significant increases in shipments to many of B.C.'s major export destinations, including Mainland China (+12.2%), Japan (+4.3%), the European Union (+10.5%), India (+39.0%) and Taiwan (+44.3%).
Read more >>
Housing Starts -Housing starts in urban areas (areas with population of at least 10,000) in British Columbia continued to see-saw in July, jumping 24.0% (seasonally adjusted at annual rates) following a 15.5% dip in June. July's boost was due entirely to increased activity among apartment and other unit types (+45.5%), as row units, semi-detached and single-detached units all slowed.
Read more >>
Tourism Room Revenues - For British Columbia, room revenues rose during the month of June. On a regional basis, B.C. Rockies (+51.1%), Vancouver, Coast and Mountains (+49.4%), The Islands (+46.5%), Thompson/Okanagan (+27.6%), and Northern B.C. (+12.4%) tourism regions all reported revenue increases compared to twelve months ago.
Read more >>



@BCStats on Twitter
B.C.'s unemployment rate rose 0.3 percentage points to 5.3% in August from the month before, although it was the lowest provincial rate of unemployment in Canada.

Follow @BCStats on Twitter


Current Surveys
BC Apprenticeship Discontinuers Survey
Baccalaureate Graduates Survey

BC Hydro Workforce Profile Survey
BC Public Service Exit Survey
Canada-BC Job Grant Outcomes Survey
Community Living BC Employee Engagement Survey

Corporate Accounting Services (CAS) Client Satisfaction Survey

FrontCounter BC Customer Satisfaction Survey
New Job Survey
Online Games Survey

You can read more about any of these by visiting our Current and Recent Surveys page.



Did You Know
Canada's road network was long enough in 2016 to circle the Earth's equator more than 19 times.
Source: Statistics Canada



Headlines
Unemployment in B.C. went up in August over July.

B.C.'s exports rose in August over the same period the year before.

Urban housing starts in B.C. jumped in July over the month before.