Edition: September 11, 2017
Resources
News by Sector
Economy
Government Operations
Multiculturalism
Services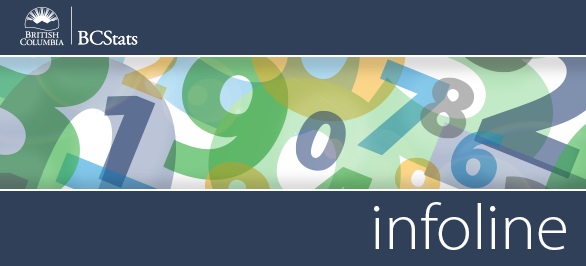 Infoline Highlights: Coverage for the week of September 5-8

Labour Force Statistics - The unemployment rate in British Columbia was 5.1% in August, down from 5.3% in July and below the 5.5% it was 12 months ago. Compared to July, the labour force declined (-8,400), with the number of unemployed falling (-7,200), and a slight reduction in employment (-1,200).
Read more >>
Building Permits - The value of building permits rose 4.6% (seasonally adjusted) in July, bucking the national trend. Permits for residential projects increased 7.8%, which offset decreases for industrial (‑23.0%), institutional (‑4.4%), and commercial (‑2.4%) buildings.
Read more >>
Bankruptcies - In June 2017, there was a decrease of 8.1% in overall bankruptcies compared to June 2016. Of the 396 bankruptcies, nine were filed by businesses, a reduction of 50% compared to the 18 business bankruptcies registered in June last year.
Read more >>
Exports - Through the first seven months of 2017, B.C. origin exports jumped 19.6% compared to the same period in 2016. There was double-digit growth in exports to most of B.C.'s major trading partners, including the United States (+10.6%), Mainland China (+12.0%), Japan (+35.4%), South Korea (+56.2%), the European Union (+42.1%), India (+78.9%) and Taiwan (+41.7%).
Read more >>




@BCStats on Twitter
The value of building permits rose 4.6% (seasonally adjusted) in July, bucking the national trend.

Follow @BCStats on Twitter


Current Surveys
Baccalaureate Graduate Survey
BC Hydro Workforce Profile Survey
BC Public Service Exit Survey
Building Occupants Survey

Canada-BC Job Grant Outcomes Survey
FrontCounter BC Customer Satisfaction Survey
Labour Market Agreement for Persons with Disabilities Outcome Survey
Long Term Disability (LTD) Application Process Survey
New Job Survey

SDSI LMAPD Monthly Survey 2016-17
2017 BC Wildfire Service Auxiliary Work Environment Survey
Workplace Technology Satisfaction Survey

You can read more about any of these by visiting our Current and Recent Surveys page.



Did You Know
At the time of graduation, 43% of college graduates, 50% of bachelor graduates, 44% of master's and 41% of doctorate graduates had financial help, either through bank or government loans, private grants, or family loans or gifts.
Source: Statistics Canda


Headlines
B.C.'s unemployment rate fell in August

The value of building permits rose in July

There were fewer B.C. bankruptcies in June

B.C.'s exports jumped in July