Edition: September 12, 2016
Resources
News by Sector
Economy
Government Operations
Multiculturalism
Services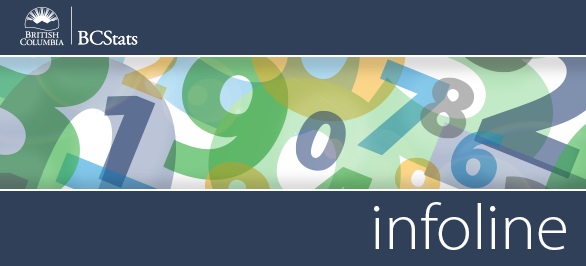 Infoline Highlights: Coverage for the week of September 6-9

Labour Force Statistics Highlights - The unemployment rate in British Columbia was 5.5% in August, down from 5.6% in July.
Read more >>
Building Permits - The value of building permits issued in British Columbia decreased by 4.8% (seasonally adjusted) in July.
Read more >>
The Price of New Housing - The cost of new housing in British Columbia's two largest cities continued to climb in July.
Read more >>




Current Surveys
Apprenticeship Student Outcomes (APPSO) Survey
Baccalaureate Graduate Survey
BC Hydro Workforce Profile Survey
BC Labour Market Agreement Outcomes Survey
BC Public Service Exit Survey
Canada-BC Job Grant Outcomes Survey

Diploma, Associate Degree, and Certificate Student Outcomes (DACSO) Survey
FrontCounter BC Customer Satisfaction Survey
HIBC Customer Experience Survey
Labour Market Agreement for Persons with Disabilities Outcome Survey
Long Term Disability (LTD) Application Process Survey

SDSI LMAPD Monthly Survey 2016-17
Service BC Centres In-Person Survey

You can read more about any of these by visiting our Current and Recent Surveys page.



Did You Know
British Columbians have been attaining postsecondary qualifications in increasing proportions over the generations. Less than half (49%) of B.C. residents aged 65 years and over have a postsecondary certificate or degree, compared to more than two thirds (68%) of those aged 25 to 44.
Source: Statistics Canada


Headlines
Unemployment in B.C. was down in August, compared to August 2015.

Year-to-date, the value of building permits in B.C. has been 1.4% greater during the first seven months of 2016 than the same time period in 2015.

The cost of new housing in B.C.'s two largest cities is higher, even though land values have remained the same.