Edition: September 16-20, 2019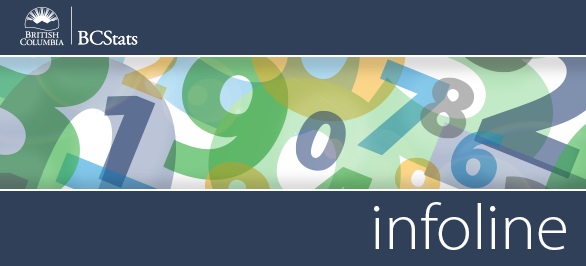 Infoline Highlights for the Week of September 16-20

Retail Sales -Sales by retailers in the province slipped 0.8% (seasonally adjusted) in July, following a similar decline in June (-0.7%). Canadian sales inched up 0.4%, marking the first increase in three months.
Read more >>
Visitor Entries - The number of non-resident travellers entering Canada via B.C. borders was relatively unchanged (-0.0%, seasonally adjusted) at about 730,000 in July. Accounting for nearly 75% of the total visitor entries through B.C. in that month, entries from the U.S. inched down 0.1%.
Read more >>
Employment Insurance - The number of British Columbians receiving regular Employment Insurance (EI) benefits climbed 2.9% (seasonally adjusted) in July, to 42,510. Nationally, EI beneficiaries were up 1.1%, to 450,590.
Read more >>
Consumer Price Index - British Columbia's consumer price index (CPI) was 2.0% higher (unadjusted) in August 2019 than in the same month of 2018. On a monthly basis, the CPI dropped 0.2% from July 2019.
Read more >>
Labour Force Statistics - The unemployment rate in British Columbia was 5.0% in August, up (+0.6 points) from July but down slightly (-0.1 points) from 12 months ago. Overall, the labour force increased (+7,500) and there were fewer jobs (‑8,300) in August.
Read more >>





Current Surveys
BC Hydro Workforce Profile Survey
BC Public Service Exit Survey
BC Public Service New Job Survey

BC Student Outcomes Survey of Baccalaureate Graduates




BC Wildfire Service Auxiliary Work Environment



FrontCounter BC Customer Satisfaction Survey

Long Term Disability (LTD) Application Process Survey

WES Pulse Check

Workforce Development Agreement Outcomes

Workforce Development Agreement Employer Outcomes



You can read more about any of these by visiting our Current and Recent Surveys page.



Did You Know
B.C. has 1,385 homelessness support workers for 4,025 shelter residents, the second highest number in Canada following Ontario, which has 2,235 workers for 8,790 shelter residents.
Source: Statistics Canada


Headlines
B.C.'s retail sales slipped slightly in July.

Inflation in B.C. was higher in August than August 2018.

B.C.'s unemployment rate was up in August from the month before.