Edition: September 17, 2018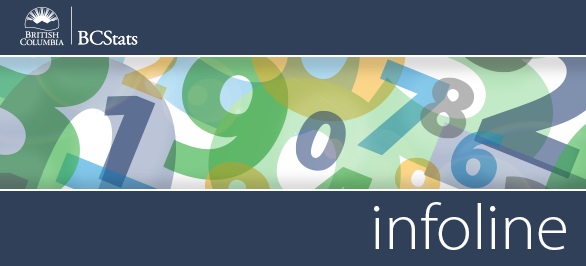 Infoline Highlights: Coverage for the week of September 10-14

Canadian Energy Usage -Energy use in Canada declined (-1.3%) in 2016, on the heels of another decrease recorded in 2015 (-0.3%). Greenhouse gas (GHG) emissions were also down in 2016 (-1.5%).
Read more >>
Price of New Housing -The average cost for a new home (house and land) in British Columbia climbed 1.3% in July, compared to the same month in the previous year. Higher prices for both houses (+1.1%) and land (+1.7%) drove the increase.
Read more >>
Visitor Entries - B.C. welcomed nearly 700 thousand non-resident travellers (seasonally adjusted) in June, of which 73% were from the United States. Non-resident traveller entries to Canada through British Columbia were up 2.7% from May.
Read more >>


@BCStats on Twitter
Households used an average of 75.8 gigajoules of energy per person, equivalent to the energy content in approximately 12 barrels of crude oil.

Follow @BCStats on Twitter


Current Surveys
BC Apprenticeship Discontinuers Survey
Baccalaureate Graduates Survey

BC Hydro Workforce Profile Survey
BC Public Service Exit Survey
BC Public Service New Job Survey

Canada-BC Job Grant Outcomes Survey
Community Living BC Employee Engagement Survey

Corporate Accounting Services (CAS) Client Satisfaction Survey

FrontCounter BC Customer Satisfaction Survey
New Job Survey
Online Games Survey

You can read more about any of these by visiting our Current and Recent Surveys page.



Did You Know
Between July 2017 and July 2018, the majority (76%) of Canadians 19 years and older paid for their goods and services digitally, using debit and credit cards, preauthorized payments or online banking.
Source: Statistics Canada



Headlines
Canadian energy usage declined in 2016 over the year before.

The cost of new housing in B.C. was higher in July than July 2017.

More non-resident travellers entered Canada through B.C. in June than the month before.