Edition: September 18, 2017
Resources
News by Sector
Economy
Government Operations
Multiculturalism
Services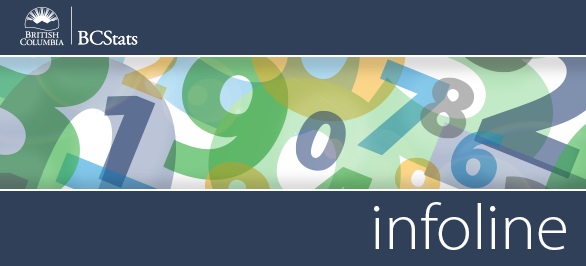 Infoline Highlights: Coverage for the week of September 11-15

Price of New Housing - In July the cost of new housing in B.C. was up from June by 1.7%. The rise was concentrated in Vancouver (+2.0%) and Kelowna (+0.9%), as Victoria registered no change in prices compared to the previous month.
Read more >>
Small Business Quarterly - There were 187,867 small businesses in British Columbia (excluding self-employed persons) in June of 2017, a 1.0% increase from a year earlier. There was a 4.7% rise in incorporations of businesses in the second quarter of 2017, compared to the same period a year earlier.
Read more >>
2016 Census: Household Income Highlights - Median household income in B.C. grew 12.2% between 2005 and 2015 to reach $69,995 in 2015. B.C. saw the fifth largest pace of growth among provinces in this period; growth was also above the Canadian average (+10.8%).
Read more >>
Housing Starts - Issue 17-103: Housing Starts - Urban housing starts (areas with population of at least 10,000) in British Columbia saw a broad based decline (-21.3%) in August compared to the previous month. All subcomponents registered drops, ranging from -1.6% for semi-detached homes to -30.8% for apartments.
Read more >>




@BCStats on Twitter
The number of small businesses in the province grew 1.0% from June 2016 to June 2017.

Follow @BCStats on Twitter


Current Surveys
Baccalaureate Graduate Survey
BC Hydro Workforce Profile Survey
BC Public Service Exit Survey
Building Occupants Survey

Canada-BC Job Grant Outcomes Survey
FrontCounter BC Customer Satisfaction Survey
Labour Market Agreement for Persons with Disabilities Outcome Survey
Liquor Distribution Branch Work Environment Survey 2017

Long Term Disability (LTD) Application Process Survey
New Job Survey

SDSI LMAPD Monthly Survey 2016-17
2017 BC Wildfire Service Auxiliary Work Environment Survey
Workplace Technology Satisfaction Survey

You can read more about any of these by visiting our Current and Recent Surveys page.



Did You Know
The Emmy Awards were held last night to honor those in the TV industry, and B.C. is a major player in that world. In 2015-2016, out of the total $1.92 billion spent on productions in B.C., just over $1.2 billion of that was spent on shows for TV.
Source: Creative BC


Headlines
The cost of new housing in B.C. rose in July.

There are more small businesses in B.C. than there were a year ago.

Median household income in B.C. grew between 2005-2015.