Edition: September 19, 2016
Resources
News by Sector
Economy
Government Operations
Multiculturalism
Services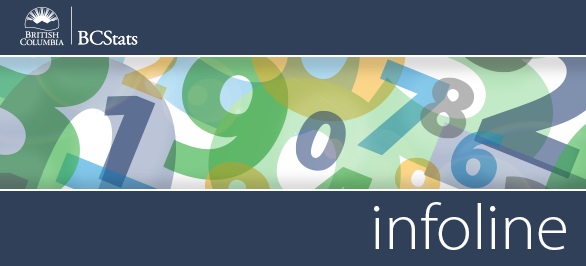 Infoline Highlights: Coverage for the week of September 12-16

2015 Apprenticeship Student Outcomes Survey - The former traditional apprentices and those from progressive credential programs who were surveyed in 2015 were satisfied with their in-school training, and their pro¬grams were helpful in the development of key skills.
Read more >>
Manufacturing - Manufacturing sales in British Columbia climbed 2.2% (seasonally adjusted) to $11.9 billion in July, reaching their highest level since February of 2006.
Read more >>
Housing Starts - Total housing starts in British Columbia's urban areas (population of 10,000+) dipped 10.8% (seasonally adjusted at annual rates) in August, following a decrease of 21.7% in the previous month.
Read more >>



Current Surveys
Apprenticeship Student Outcomes (APPSO) Survey
Baccalaureate Graduate Survey
BC Hydro Workforce Profile Survey
BC Labour Market Agreement Outcomes Survey
BC Public Service Exit Survey
Canada-BC Job Grant Outcomes Survey

Diploma, Associate Degree, and Certificate Student Outcomes (DACSO) Survey
FrontCounter BC Customer Satisfaction Survey
HIBC Customer Experience Survey
Labour Market Agreement for Persons with Disabilities Outcome Survey
Long Term Disability (LTD) Application Process Survey

SDSI LMAPD Monthly Survey 2016-17
Service BC Centres In-Person Survey

You can read more about any of these by visiting our Current and Recent Surveys page.



Did You Know
76.9% of British Columbians drive or are driven to work in a car, truck or van, while 12.6% take public transit. The rest of working Bristish Columbians walk or cycle to their place of employment.
Source: Statistics Canada


Headlines
Almost 9 out of 10 former traditional apprentices had a job in their trade right after their training ended.

Manufacturing sales reached a 10-year high in August.

Housing starts in B.C continue to fall.