Edition: September 2-6, 2019
Resources
News by Sector
Economy
Government Operations
Multiculturalism
Services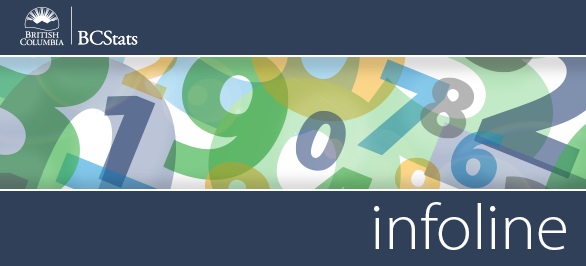 Infoline Highlights for the Week of September 2-6

Bankruptcies - There were 378 bankruptcies filed by consumers in British Columbia in July, a 26.8% increase from the same month of 2018. Meanwhile, the number of business bankruptcies was notably higher, climbing 166.7% to 16. Insolvency numbers in other provinces showed similar volatility in July.
Read more >>
Exports - Through the first seven months of 2019, the value of B.C. origin exports fell 2.8% compared to the same period in 2018. Exports to B.C.'s largest trading partner, the United States, dropped 3.3%. There were also significant declines in shipments to Japan (-11.6%), South Korea (-1.6%), the European Union (-2.7%) and Taiwan (-7.9%).
Read more >>




Current Surveys
BC Hydro Workforce Profile Survey
BC Public Service Exit Survey
BC Public Service New Job Survey

BC Wildfire Service Auxiliary Work Environment



Canada-BC Job Grant Outcomes Survey
FrontCounter BC Customer Satisfaction Survey
Labour Market Agreement for Persons with Disabilities Outcomes Survey


Long Term Disability (LTD) Application Process Survey

WES Pulse Check

Workforce Development Agreement Outcomes

Workforce Development Agreement Employer Outcomes



You can read more about any of these by visiting our Current and Recent Surveys page.



Did You Know
The 2019/2020 tuition fees for undergraduate programs in Ontario have dropped, but elsewhere in Canada they are either staying the same (Alberta) or rising, from 2.0% in B.C. and P.E.I. to 8.5% in Yukon.
Source: Statistics Canada


Headlines
Both consumer and business bankruptcies increased in July over the same period in 2018.

The value of B.C.'s exports fell in July compared to July 2018.