Edition: September 23-27, 2019
Resources
News by Sector
Economy
Government Operations
Multiculturalism
Services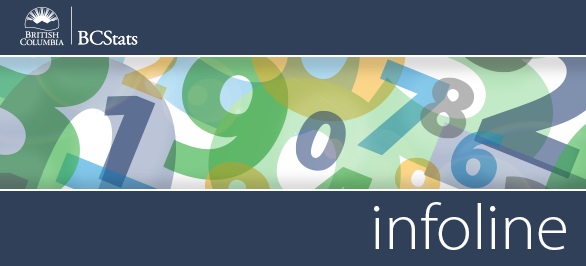 Infoline Highlights for the Week of September 23-30

Average Weekly Earnings - Average weekly earnings of payroll employees in British Columbia inched up by $1.41 (+0.1%) to $993.66 (seasonally adjusted) in July. At the industry level, earnings were up most notably in real estate and rental and leasing (+10.0%) and management of companies and enterprises (+4.6%).
Read more >>
Food Services and Drinking Places - Revenues generated in British Columbia's food service and drinking places industry declined 1.0% (seasonally adjusted) in July. Nationally, industry receipts also stalled (-0.4%), with Ontario (-0.6%), B.C. and Alberta (-0.5%) being responsible for most of the decrease.
Read more >>
Building Investment - Total investment in building construction in B.C. slowed in July, decreasing 5.3% (seasonally adjusted) to $2.8 billion. Investment in non-residential building construction in the province was slightly higher than in June (+0.5% to $773 million).
Read more >>
Wholesale Sales - Wholesale sales in the province rose 1.2% (seasonally adjusted) in July, marking the fourth increase in five months. Strong sales in three subsectors, lead by motor vehicle and motor vehicle parts and accessories, explained much of the increase.
Read more >>




Current Surveys
BC Hydro Workforce Profile Survey
BC Public Service Exit Survey
BC Public Service New Job Survey

BC Student Outcomes Survey of Baccalaureate Graduates




BC Wildfire Service Auxiliary Work Environment



FrontCounter BC Customer Satisfaction Survey

Long Term Disability (LTD) Application Process Survey

WES Pulse Check

Workforce Development Agreement Outcomes

Workforce Development Agreement Employer Outcomes



You can read more about any of these by visiting our Current Surveys page.



Did You Know
In B.C., people who own more than one property make up 15% of all property owners. Most (77%) of these multiple-property owners only own one property in addition to their residence, and the bulk of them (54%) live in Greater Vancouver.
Source: Statistics Canada


Headlines
Average weekly earnings in B.C. rose slightly in July.

July's revenues dipped for B.C.'s food services and drinking places.

Investment in B.C.'s building construction industry decreased in July.