Edition: September 24, 2018
Resources
News by Sector
Economy
Government Operations
Multiculturalism
Services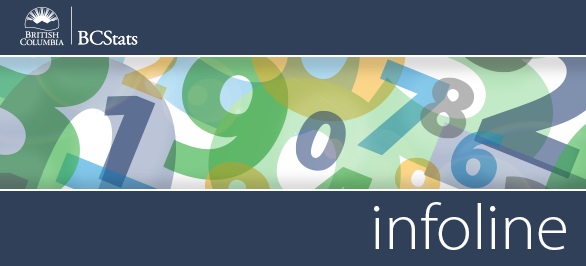 Infoline Highlights: Coverage for the week of September 17-21

Retail Sales -Retail sales in British Columbia (seasonally adjusted) fell 0.5% in July compared to June, the third consecutive month of decline. Nationally, retail activity was up 0.3% in July, boosted by increased sales at food and beverage stores (+1.3%) and gasoline stations (+1.9%).
Read more >>
International Travel -In July, B.C. welcomed more than 685,000 non-resident travellers (seasonally adjusted), of which 73% were from the United States. Total non-resident traveller entries to Canada through British Columbia were down 1.3% in July, as entries from the United States dropped 0.9%.
Read more >>
Consumer Price Index - British Columbia's consumer price index (CPI) was 2.9% higher (unadjusted) in August than in the same month of last year. On a monthly basis, the rate of inflation was down 0.1% from July 2018.
Read more >>
Employment Insurance -The number of people receiving employment insurance (EI) benefits in British Columbia rose 2.2% in July compared to June (seasonally adjusted), up by 900 to reach 42,570 individuals. This was the first increase seen since November 2017, and only the third in the 21 months since November 2016.
Read more >>
Manufacturing Sales - B.C. manufacturing sales (seasonally adjusted) fell 1.7% to $4.7 billion in July. Despite the drop, July sales were the second-highest on record after June's peak, and 10.0% higher than in July 2017.
Read more >>


@BCStats on Twitter
In July, B.C.'s manufacturing sales fell 1.7%, although July had the second-highest manufacturing sales on record after June.

Follow @BCStats on Twitter


Current Surveys
BC Apprenticeship Discontinuers Survey
Baccalaureate Graduates Survey

BC Hydro Workforce Profile Survey
BC Public Service Exit Survey
BC Public Service New Job Survey

Canada-BC Job Grant Outcomes Survey
Community Living BC Employee Engagement Survey

Corporate Accounting Services (CAS) Client Satisfaction Survey

FrontCounter BC Customer Satisfaction Survey
New Job Survey
Online Games Survey

You can read more about any of these by visiting our Current and Recent Surveys page.



Did You Know
From 2006 to 2013, the total share of women-owned and equally-owned enterprises was highest in B.C. (39%), also one of the provinces where women-owned enterprises grew fastest relative to men-owned enterprises.
Source: Statistics Canada



Headlines
Retail sales in B.C. declined in July.

B.C.'s consumer price index rose in August.

More British Columbians received employment benefits in July than in June.