Edition: September 25, 2017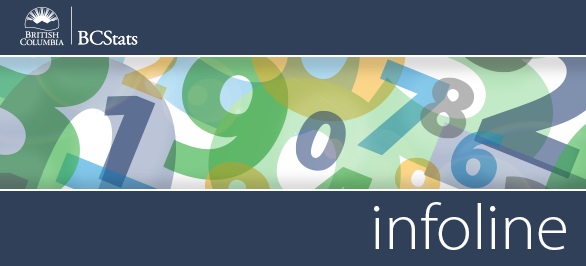 Infoline Highlights: Coverage for the week of September 18-22

Consumer Price Index - British Columbia's consumer price index (CPI) rose 2.0% (unadjusted) in August compared to the same month of the previous year. This marks a small increase in the year-over-year rate of inflation since July, when it was 1.9 %.
Read more >>
Retail Sales - Retail sales in British Columbia grew by 0.7% in July. The increase was concentrated in sales at gasoline stations, sporting goods, hobby, book and music stores, and general merchandise stores.
Read more >>
Wholesale Sales - Sales by wholesalers in British Columbia rose for the third consecutive month in July to reach $6.6 billion, a 3.4% increase compared to the previous month. The rise was led by higher sales in building material and supplies (+9.2%), and food, beverage and tobacco (+5.1%) wholesales.
Read more >>
Employment Insurance - The number of people receiving employment insurance (EI) benefits in British Columbia increased by 740 (+1.5%) in July compared to the previous month, to reach 50,980 individuals. The increase was concentrated among women (+5.0%), while the number of male beneficiaries fell by 1.0%.
Read more >>
Visitor Entries - In July, B.C. welcomed 653,000 non-resident travellers (seasonally adjusted), of which three quarters were from the United States. Non-resident traveller entries to Canada through British Columbia decreased (‑0.6%) in the month.
Read more >>
Manufacturing Sales - B.C. manufacturing sales (seasonally adjusted) fell by 1.6% in July compared to the previous month. The decline was widespread, with both the durable and non-durable goods components falling in the month.
Read more >>




@BCStats on Twitter
In July, B.C. welcomed 653,000 non-resident travellers, with 75% coming from the U.S

Follow @BCStats on Twitter


Current Surveys
Baccalaureate Graduate Survey
BC Hydro Workforce Profile Survey
BC Public Service Exit Survey
Building Occupants Survey

Canada-BC Job Grant Outcomes Survey
FrontCounter BC Customer Satisfaction Survey
Labour Market Agreement for Persons with Disabilities Outcome Survey
Liquor Distribution Branch Work Environment Survey 2017

Long Term Disability (LTD) Application Process Survey
New Job Survey

SDSI LMAPD Monthly Survey 2016-17
2017 BC Wildfire Service Auxiliary Work Environment Survey
Workplace Technology Satisfaction Survey

You can read more about any of these by visiting our Current and Recent Surveys page.



Did You Know
Wiarton Willie died last week. The Canadian groundhog was part of Groundhog Day, a tradition to determine whether the nation has another six weeks of winter in store, but he was only correct 37% over three decades.
Source: Livescience


Headlines
The consumer price index increased in July.

The number of people collecting employment insurance is July rose slightly.

Manufacturing sales dipped in July.