Edition: September 26, 2016
Resources
News by Sector
Economy
Government Operations
Multiculturalism
Services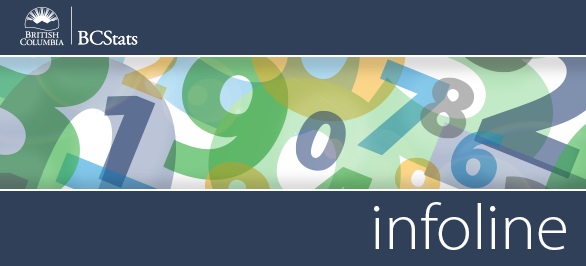 Infoline Highlights: Coverage for the week of September 19-23

Consumer Price Index (CPI) - British Columbia's consumer price index (CPI) climbed 2.0% (unadjusted) in August, compared to the same month of the previous year.
Read more >>
Employment Insurance - The number of British Columbians receiving regular Employment Insurance (EI) benefits rose 8.9% (seasonally adjusted) in July.
Read more >>
Wholesale Sales - Wholesale sales in B.C. stalled in July, inching down 0.2%, (seasonally adjusted).
Read more >>
Input Indicators of the British Columbia Technology Sector: 2015 Edition - The high technology sector is a vital part of the B.C. economy. This is reflected in the B.C. government's first technology strategy, which includes a $100-million technology innovation fund to fuel the venture capital market in the province.
Read more >>
Profile of the British Columbia Technology Sector: 2015 Edition - High technology firms tend to be innovative and efficient, creating goods and services that confer benefits on other parts of the economy by improving productivity and profitability, while at the same time providing relatively high-wage employment.
Read more >>
Visitor Entries - The number of travellers entering Canada via British Columbia increased (+0.7%, seasonally adjusted) in July.
Read more >>



Current Surveys
Apprenticeship Student Outcomes (APPSO) Survey
Baccalaureate Graduate Survey
BC Hydro Workforce Profile Survey
BC Labour Market Agreement Outcomes Survey
BC Public Service Exit Survey
Canada-BC Job Grant Outcomes Survey

Diploma, Associate Degree, and Certificate Student Outcomes (DACSO) Survey
HandyDART Client SurveyFrontCounter BC Customer Satisfaction Survey
HIBC Customer Experience Survey
Labour Market Agreement for Persons with Disabilities Outcome Survey
Long Term Disability (LTD) Application Process Survey

SDSI LMAPD Monthly Survey 2016-17
Service BC Centres In-Person Survey

You can read more about any of these by visiting our Current and Recent Surveys page.



Did You Know
British Columbians are becoming more educated. 48.6% of people aged 65 years and over had a postsecondary credential, compared to 68.3% of adults aged 25 to 44; 27.5% of individuals aged 65 years and over had no certificate, diploma or degree, compared to 7.8% of 25 to 44 year-olds.
Source: Statistics Canada


Headlines
Canada's Consumer Price Index (CPI) rose slightly in July.

Canadians saw a rise in Employment Insurance (EI) benefits in July.

British Columbia's high tech sector is a significant contributor to the province's economy, but there is room for improvement in some areas.