Edition: September 30-October 4, 2019
Resources
News by Sector
Economy
Government Operations
Multiculturalism
Services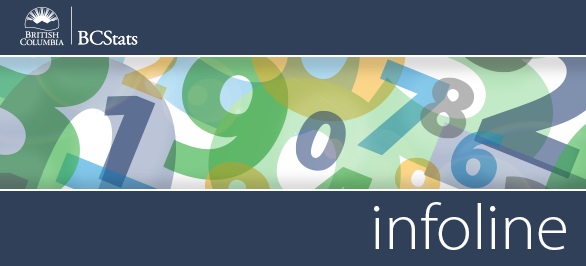 Infoline Highlights for the Week of September 30-October 4

Exports - The value of B.C. origin exports dropped 5.3% year-to-date to August, compared to the same eight-month period a year earlier. There were declines in shipments to most major destinations, including the United States (-5.4%), Mainland China (-1.5%), Japan (-10.4%), South Korea (-8.7%), the European Union (-6.2%) and Taiwan (-9.0%).
Read more >>
Police Force - In 2018, there were 9,246 police officers in British Columbia, an addition of approximately 282 officers since 2017. The number of police per 100,000 population in B.C. (185) was up slightly from the previous year (182).
Read more >>
Gross Domestic Product - Canadian real gross domestic product was flat in July (technically, it was +0.02% seasonally adjusted) following four consecutive monthly growth. GDP in goods-producing industries were down 0.7%, mainly due to a 4.7% decline in oil and gas extraction (except oil sands) as some maintenance in Newfoundland and Labrador's offshore production facilities weighed on output.
Read more >>
Industrial Product Price Index - Canadian manufacturers' prices were slightly lower (-1.0%) this August than in the same month of 2018. A 9.9% year-over-year decline in the price of energy and petroleum products was the largest contributor to the overall decrease, but lower prices for chemical (-3.7%) and pulp and paper (-5.8%) products were also among commodity groups exerting downward pressure.
Read more >>




Current Surveys
BC Hydro Workforce Profile Survey
BC Public Service Exit Survey
BC Public Service New Job Survey

BC Student Outcomes Survey of Baccalaureate Graduates




BC Wildfire Service Auxiliary Work Environment



FrontCounter BC Customer Satisfaction Survey

Long Term Disability (LTD) Application Process Survey

WES Pulse Check

Workforce Development Agreement Outcomes

Workforce Development Agreement Employer Outcomes



You can read more about any of these by visiting our Current Surveys page.



Did You Know
On average, Canadian women earned $4.13 (13.3%) less than per hour than their male counterparts, with women in B.C. facing the largest gap (18.9%), followed closely by women in Alberta (17.6%).
Source: Statistics Canada


Headlines
B.C. exports dropped in the first eight months of 2019.

Canada's GDP in July remained basically unchanged from June.

Canada's IPPI slipped slightly in August from August 2018.