Edition: September 4, 2018
Resources
News by Sector
Economy
Government Operations
Multiculturalism
Services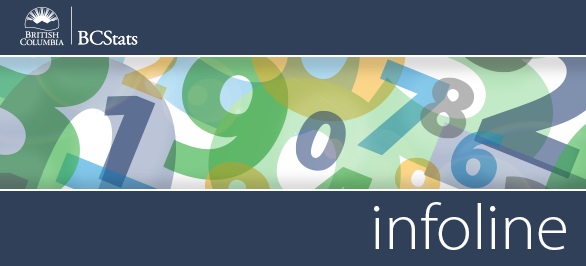 Infoline Highlights: Coverage for the week of August 27-31

Bankruptcies - There were 352 bankruptcies filed by consumers in British Columbia in June, a 9.0% decline from the same month of 2017. Meanwhile, the number of business bankruptcies was also notably lower (-66.7% to three).
Read more >>
Industrial Product Price Index - Canadian manufacturers' prices were notably higher (+6.6%) this July than in the same month of 2017. A 27.8% year-over-year surge in the price of energy and petroleum products was the largest contributor to the overall increase, and price boosts for pulp and paper (+17.3%) and primary non-ferrous metal (+7.8%) products also exerted upward pressure.
Read more >>
Gross Domestic Product, 2nd Quarter - The Canadian economy picked up speed in the second quarter, expanding 0.7% (real GDP at market prices, seasonally adjusted, chained 2007 dollars), following three quarters of steady, but more modest, growth of 0.4%.
Read more >>
Gross Domestic Product -The Canadian economy was essentially unchanged (+0.0%, seasonally adjusted) in June, following a 0.5% increase in the previous month. GDP in goods-producing industries contracted 0.2%, mainly due to a decline in mining, quarrying, and oil & gas extraction (-0.9%) as non-conventional oil extraction contracted (-2.4%) for the first time in five months.
Read more >>
Average Weekly Earnings - Average weekly earnings of payroll employees in British Columbia (seasonally adjusted, current dollars) were 2.0% higher in June compared to the same month of 2017, reaching $963.19. Nationally, average weekly earnings were up 2.8% (to $999.74) over June 2017.
Read more >>



@BCStats on Twitter
There was no change to the Canadian gross domestic product in June from the month before. Overall, though, the second quarter of 2018 saw accelerated growth of 0.7%.

Follow @BCStats on Twitter


Current Surveys
BC Apprenticeship Discontinuers Survey
BC Assessment Employee Engagement Pulse Survey

BC Hydro Workforce Profile Survey
BC Public Service Exit Survey
Canada-BC Job Grant Outcomes Survey
Community Living BC Employee Engagement Survey

Corporate Accounting Services (CAS) Client Satisfaction Survey

FrontCounter BC Customer Satisfaction Survey
New Job Survey
Online Games Survey

You can read more about any of these by visiting our Current and Recent Surveys page.



Did You Know
It's back to school today for about 624,000 students in B.C. Approximately 538,000 of these are full-time public school students, with an average of 84% graduating from high school.
Source: Education by the Numbers



Headlines
Bankruptcies in B.C. dropped in June over the same month the year before.

The Industrial Product Price Index rose in July over July 2017.

B.C. payroll employees' average earnings rose slightly in June over the same period in 2017.