Edition: September 5, 2017
Resources
News by Sector
Economy
Government Operations
Multiculturalism
Services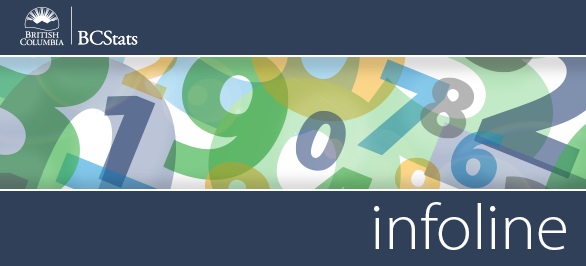 Infoline Highlights: Coverage for the week of August 28-September 1

Gross Domestic Product (GDP) - Canadian real GDP by industry at basic prices (seasonally adjusted) advanced 0.3% in June. With the exception of October, GDP has grown every month since June 2016.
Read more >>
Weekly Earnings - Average weekly earnings of payroll employees in British Columbia (seasonally adjusted, current dollars) increased by $4.68 from May to reach $944.56 in June 2017, a 0.5% increase. Nationally, earnings averaged $973.52 per week, a rise of 0.3% from May.
Read more >>



@BCStats on Twitter
Real Canadian GDP grew .3% in June. Except for October, GDP has grown every month since June 2016.

Follow @BCStats on Twitter


Current Surveys
Baccalaureate Graduate Survey
BC Hydro Workforce Profile Survey
BC Public Service Exit Survey
Canada-BC Job Grant Outcomes Survey
FrontCounter BC Customer Satisfaction Survey
Labour Market Agreement for Persons with Disabilities Outcome Survey
Long Term Disability (LTD) Application Process Survey
New Job Survey

SDSI LMAPD Monthly Survey 2016-17
2017 BC Wildfire Service Auxiliary Work Environment Survey
Workplace Technology Satisfaction Survey

You can read more about any of these by visiting our Current and Recent Surveys page.



Did You Know
Although the number of public school students in Canada has remained fairly consistent at just over five million, enrollment in French emmersion in 2014-2015 increased by 4.5% over 2013-2014.
Source: Statistics Canda


Headlines
GDP rose slightly in June

Average weekly earnings increased in June