Edition: September 9-13, 2019
Resources
News by Sector
Economy
Government Operations
Multiculturalism
Services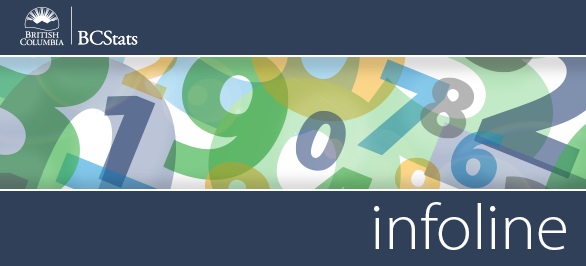 Infoline Highlights for the Week of September 9-13

Movie Theatres - Despite the increased popularity of movie streaming, B.C.'s motion picture theatre industry registered an operating profit margin of 18.0% in 2018, a notable increase of nearly two full percentage points from the last reporting year (16.1% in 2016). While expenses, on average, were up (+4.2% to $235 million), the revenue generated increased at a faster rate (+6.6% to $287 million).
Read more >>
Energy Usage - Energy use in Canada increased (+1.8%) in 2017, and greenhouse gas (GHG) emissions were also higher (+1.5%). At nearly a quarter (24%) of total energy consumption, the residential sector remained the largest energy user in 2017, though this share was down slightly from the previous year (-0.1 percentage points).
Read more >>
Price of New Housing - Relative to the same month of 2018, the cost of new housing in B.C.'s three largest cities continued to decrease in July. Home builders in Vancouver received 1.2% less for their projects, and Victoria's housing price index was down 1.8%. The main drop came from declines in new housing prices (-2.3% in Vancouver and -3.0% in Victoria).
Read more >>





Current Surveys
BC Hydro Workforce Profile Survey
BC Public Service Exit Survey
BC Public Service New Job Survey

BC Wildfire Service Auxiliary Work Environment



FrontCounter BC Customer Satisfaction Survey

Long Term Disability (LTD) Application Process Survey

WES Pulse Check

Workforce Development Agreement Outcomes

Workforce Development Agreement Employer Outcomes



You can read more about any of these by visiting our Current and Recent Surveys page.



Did You Know
The number of babies born in Canada to non-resident parents increased 13% in 2018-2019 from the same period the year before, with the vast majority of these births occurring in B.C. and Ontario. B.C.'s Richmond Hospital had the highest percentage of non-resident births, 23% of total births there.
Source: CTV News


Headlines
B.C.'s movie theatre industry saw operating profit margins rise between 2016 and 2018.

In Canada, both energy usage and greenhouse gas emissions increased in 2017.

The price of new housing in B.C.'s three largest cities decreased in July from July 2018.