Edition: February 2019
Resources
Top News by Sector
Economy
Government Operations
Multiculturalism
Services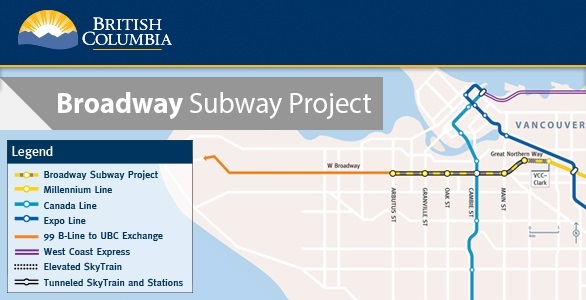 Search begins for a qualified team to partner on the Broadway Subway
An invitation to interested parties to submit their qualifications to design, build and partially finance the Broadway Subway has been released. This process will identify three teams to participate in the next stage of the competitive selection process. Full announcement details are posted to our project website, which you can read by clicking here.
Update on Early Works
In follow up to our last communication, the start of construction on the Early Work program has been delayed due to weather. Crews are expected to get underway after the Family Day holiday.



Please continue to visit our project website for ongoing updates about the Broadway Subway. You can also email the project team at broadwaysubway@gov.bc.ca.
You are receiving this email because you have indicated you would like to receive project updates. To manage your subscription, click this link.