Edition: September 3, 2020
Resources
Top News by Sector
Economy
Government Operations
Multiculturalism
Services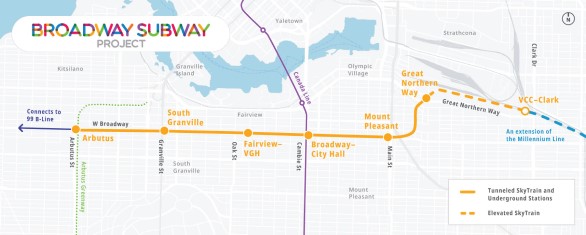 Today, the Province of B.C. announced it has awarded a contract to the Broadway Subway Project Corporation (an Acciona-Ghella joint venture) to design, build, test and integrate the SkyTrain extension. The project is still on schedule for the new line to open in 2025. We will have more information about construction and timing after the contractor finalizes their plans, which will require provincial reviews and approval before work begins. For the remainder of the year, activities will likely include completion of design, site preparation and demolition of buildings to be used for station locations and laydown, in addition to continuing utility relocations. Communications and engagement are key aspects of the project and will be ongoing as details emerge and before construction begins.
We are also excited to have launched our new website at www.broadwaysubway.ca, which will be updated on a regular basis so you have the latest information at your fingertips. You can find a link to the news release with more details of today's announcement on the Media page, and we hope you will take a look.
Kind regards,
The Broadway Subway Project Team


You are receiving this email because you have indicated you would like to receive project updates. To manage your subscription, click this link.