Edition: Focus on Careers May 2016 Newsletter
Resources
Top News by Sector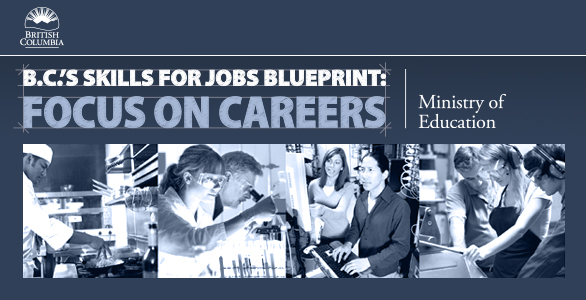 Minister announces changes to provincial exams, classroom assessment, report cards and career education!
Keeping pace with B.C.'s new school curriculum; changes are being made to provincial exams, classroom assessment, report cards and career education to better connect students with the skills they need to succeed. Education Minister Mike Bernier announced today changes are coming to B.C.'s education system to boost that connection. News release here.
For further detail on the new graduation requirements, contact Service BC: In Victoria: (250) 387-6121, In Vancouver: (604) 660-2421, Elsewhere in B.C.: 1 (800) 663-7867.
Graduation Requirements for 2017/2018
There is NO change to the number of credits required to graduate. Students will still be required to complete 80 credits in total, with a minimum of 16 at the grade 12 level, and 28 elective course credits. 52 credits are required from the following:
Two Career Education courses (8 credits) (replaces Planning 10 and Graduation Transitions)
Physical Health and Education 10 (4 credits)
Science 10 (4), and a Science 11 or 12 (4 credits)
Social Studies 10 (4 credits), and a Social Studies 11 or 12 (4 credits)
A Math 10 (4), and a Math 11 or 12 (4 credits)
A Language Arts 10, 11 & 12 (12 credits)
An Arts Education 10, 11, or 12 and/or an Applied Design, Skills & Technologies 10, 11, or 12 (4 credits)
The content and learning outcomes for Grad Transitions and Planning 10 have been distributed into new required Career Education credits and other required curriculum.
Direct link to the details of how graduation requirements are being changed here.
Direct link to the details of how assessment is being changed
here
.


In This Edition:
* New DRAFT Career Zones available in the Career & Skills Training Toolkit
* BC's Career Guide for Aboriginal People
* WorkBC Parent Guide
* BC Skills Competition
* CES Newsletter launch - Career Focus BC 2016
* Trades Access Common Core - BC Campus Open Textbook Project
* VICEA Conference
* ITA Youth Programs - Yes2It and Maker Day funding support
* Peace Energy Tour
Upcoming Events:
* * June 5-7, 2016 - Canadian Apprenticeship Forum Conference "Apprenticeship: Hands on the Future" Vancouver, BC - http://caf-fca.org/2016-conference/
** October 20-21, 2016 - BCTEA - BC Tech Educators Conference - Mount Boucherie Secondary - West Kelowna, BC - http://preview.bctea.org/conference-2016/
** October 21, 2016 - CUEBC - Computer Using Educators of BC - Riverside Secondary School - Port Coquitlam, BC - http://cuebc.ca/cue/
** October 21-22, 2016 - BCCASA - BC Culinary Arts - NorKam Secondary School - Kamloops, BC - http://www.bccasa.ca/conference.html


BC's Career Guide for Aboriginal People
BC's Career Guide for Aboriginal People supports Aboriginal youth, job seekers and career advisors with information on resources for career planning. The guide is featured on WorkBC's homepage and at Career Guide/Aboriginal People. It was also distributed at the Gathering Our Voices event and is available at WorkBC Centers and Aboriginal resource centers across BC.
The guide compliments existing online resources such as WorkBC.ca/Aboriginal and Aboriginal Learning Links and provides information on career, skills training, education and funding support in one user-friendly resource to help connect Aboriginal job seekers to employers and to education and training opportunities supports Aboriginal job seekers and Aboriginal youth (and others), to explore options, find their career direction and develop the skills and education they need to reach their career goals, supports communities or individuals with limited or no internet access.


WorkBC Parents' Guide
WorkBC Parents' Guide has been updated with new labour market information to support youth in exploring career and educational pathways. The guide is full of practical ideas and resources for investigating careers and making decisions. The guide covers a range of vital topics including:
• How you can help teens to find a direction and a passion
• The labour market today and tomorrow
• Allies who can help you
• Essential skills and learning paths
• How to finance post-secondary education and training
The WorkBC Parents' Guide provides parents and caregivers with practical ideas and resources to use with teens to help them make informed decisions about their education and career path. Information and advice is included on discussing career options with teens, B.C.'s labour market, in-demand skills, and a range of resources available to parents and students.
The B.C. Government developed the WorkBC Parents' Guide in partnership with the Canada Career Information Partnership. The WorkBC Parents' Guide is available online [www.workbc.ca/parentguide] and is being distributed to all BC's public, independent, and First Nations schools enrolling students in Grades 9-12, WorkBC Service Centres, First Nations training and employment centres, and public libraries.
We ask you to alert your school-based staff that copies of the Parents' Guide will be mailed directly to their school, and to encourage them to share copies with parents and others who are supporting teens as they chart their future career paths.


BC Provincial Skills Competition
Competitors from post secondary, secondary, middle and elementary schools competed in the Provincial Skills Canada British Columbia Competition held on April 13th, 2016 in Abbotsford, B.C. Since 1994, SkillsBC has been providing thousands of students with the opportunity to watch their peers showcase trades & technology skills and compete for gold in these Olympic-style contests.
Competition areas are divided into training/grade levels with qualified competitors from post secondary institutions being chosen by their instructors, and with the majority of the secondary and middle school competitors qualifying through the wining of gold medals at the Regional Competitions.
Every year qualifying B.C. National medalists have the opportunity to become part of Team Canada which represents our country at the World Skills Competition, or the World Skills Americas Competition held on alternate years.
Hundreds of volunteers from around B.C., including those that make up the Provincial Technical Committees, put in thousands of hours developing and judging the competition areas; mentoring student competitors; and setting up the annual Provincial Competition.
The Provincial Competition hosts the largest Trades & Technology Career Fair in B.C.! The Pathway to Careers Fair provides career development resources to students from education, government & industry representatives.
Trades & Technology First Hand activities provide hands on experiences for the thousands of visitors & spectators who attend the Provincials. More information and final results can be found here.


CES Launches Newsletter: Career Focus BC
The Career Education Society of British Columbia launched its inaugural edition of Career Focus BC 2016. It is intended to be an annual "once a year magazine ... to improve communication and to share up-to-date information with members in the field."
The link to the newsletter is here.
Articles:
Partnership - CES and CERIC
Career Development - What is it? Jessi Zielke


Trades Access Common Core open textbooks
These resources are available and free to use in high school tech-ed classrooms.
As part of the BC Campus Open Textbook Project funded by the Ministry of Advanced Education, Open School BC is pleased to announce the release of 23 new Trades Access Common Core open textbooks. This is a project led by Camosun College.
Thse open educational resouces (OERs) are designed for use within many of the B.C.'s Foundation-level trades apprenticeship training programs. Over 1600 pages of content have been openly licensed via the Creative Commons, in order that instructors (and anyone else) may reuse, revise, remix and redistribute the available material (both text and hundreds of images) however they see fit, with proper attribution.
The lines and competencies within the Trades Access Common Core resources were generated with the goal of creating a visully rich, entry-level trades training resource, while still offering the flexibility for each competency to be used as a stand-alone book. This flexibility - in addition to the textbook content being openly licenses - allows these resources to be used within other contexts as well.
All Common Core Trades books are available in the BC Open Textbook Collection at: http://open.bccampus.ca/


Vancouver Island Career Educators Conference (VICEA) May 4-5, 2016
Shari Hambrook - School District 64 - RAIC Student Design Contest
Anna-Lisa Bond - School District 61 - Middle School Programming
The annual VICEA conference in Nanaimo was well attended with many interesting and timely presentations and conversations. There were two in particular on Day 2 that seemed relevant to the wider audience of career educators.
Shari Hambrook - the SSA and WEX Teacher for Gulf Islands School presented on the Royal Architectural Institute of Canada's (RAIC) High School Architectural Design Competition. Shari recieved an email in the fall outlining the opportunity and she presented the opportunity to some of her collegues who identified some students who might be interested. The result is one of the Gulf Island teams has made the final group of three (3) teams who are having their 'Parklet' design built and displayed in Nanaimo from June 8-11, 2016, where the public will have an opportunity to sit in and vote on their favourite.
What was very interesting about Shari's presentation is how she took the requirements of this contest and linked them to the new Career Education 10-12 curriculum competencies. This was an excellent demonstration of how flexibility and rigor can both be present within the new curriculum.
If you would like more information or a copy of her powerpoint, please contact Shari directly at: shambrook@sd64.bc.ca
Anna-Lisa Bond, the Career and Transitions Coordinator for Middle School for the Victoria School District presented on the various Middle School Programming that SD#61 offers to students. There are a wide variety of opportunities that students can engage in.
There are a number of programs - but here are a couple of examples:
Choices offers 16 workshops to 160 Grade 8 girls (they can each choose 2 options). The choices are varied and differ from year to year, are as varied as: Iron Women: A career in Steel Reinforcing; Sky Boss: Air Traffic Controller; Get Paid to Play: Life in Recreation; Outstanding in her Field: Making a Living from the Land.
Spring Boards are one day career exploration modules designed with industry and training providers. Students can choose from 16 modules that offer full day or half day, hands on experiences within a particular industry or worksite. Some of this year's options included: Aviation, Art, Policing, Metal Trades and Construction, Adventure Tourism.
If you want more information, please contact Anna-Lisa at: albond@sd61.bc.ca


Industry Training Authority (ITA) Youth Programs (Yes2It, Maker Day)
YES 2 IT
Youth Exploring Skills to Industry Training
Get some hands-on experience in a trade at a YES 2 IT event in your community. A joint initiative between ITA and the B.C. Ministry of Education, YES 2 IT connects your students with local tradespeople and their employers so students can see firsthand what a career in trades is really like. The ITA will provide funding support up to $4,000.00.

Maker Day
Making is a pedagogical orientation and a mind set that integrates imagination and creativity with design thinking, problem solving, and problem finding.
The goal of a Maker Day is to provide an opportunity for hands-on, creative ways to encourage students to design, experiment, build and invent as they deeply engage in science, engineering and tinkering.
Start planning and apply for your Maker Day in the 2016-17 school year now. Maker Days are a very good fit within the new K-9 British Columbia curriculum requirements. You can apply for up to $4,000.00 to hold the event.


NEW Draft Career Zones available
Career Zones are guides that have been created for career educators and career counsellors to provide career information by employment sector. It can be challenging for any advisor to know all of the possible careers available in various employment sectors within the province. Therefore, the guides provide a diverse range of possible career choices, both in high demand occupations as well as some that are more obscure but might be of interest to students.
Three new Career Zone documents have been completed and are available in DRAFT on the Career & Skills Training Toolkit here.
In addition to the existing Career Zones:
Mining

Energy

Information & Communication Technology
There are three new Career Zone documents:
Health
Construction
Tourism & Hospitality
These three new documents are in DRAFT (until June 30th, 2016) to allow for feedback, suggestions and comments from the field.
In addition, a Companion Student Guide and a Companion Parent Guide are in the development stages. These two documents are intended to provide supporting documents that could be used in conjunction with the Career Zone documents.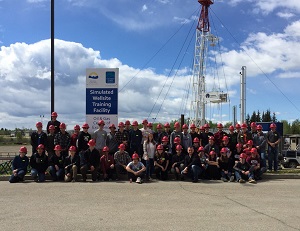 Peace Energy Tour 2016
Northern Opportunities Energy Week ran from May 9th to May 13th, 2016. Students from School Districts 57,59, 60, 71, 78 and Chalo school participated in this years event. Students started the week with a workshop from "Road to Employment" and hands on skills at Northern Lights College.
The students were certified in either H2S Alive or Occupational First Aid Level 1 on Tuesday. For the remainder of the week, students participated in tours hosted by Terrvita, Progress Energy, and Encana. It was a great week where students had an opportunity to connect with industry professionals and learn about their careers.