Edition:
Resources
Top News by Sector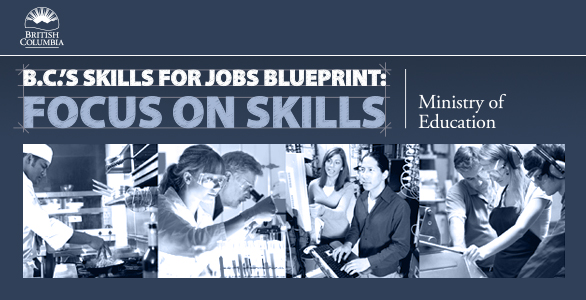 Superintendent's Message - December 2014
In a recent article called For Students, the Importance of Doing Work That Matters, noted educator and author Will Richardson talked about the value of providing kids with authentic, meaningful learning experiences. Kids, Richardson argues, want to make a difference and have something tangible to show for their time in school.
Richardson's article got me thinking about skills and trades programs here in BC. We're very fortunate in our province to have programs that leave the type of lasting impression that Richardson is talking about. The Trades Awareness Skills and Knowledge program (TASK) in School District 62 (Sooke) is a great example. For one semester, students sample carpentry, drywall, electrical, plumbing, metal fabrication, sheet metal, and welding. Students earn 32 credits towards graduation, including dual credits for Camosun College in Victoria.
TASK is one of dozens of examples of school programs across BC that give our students practical skills and the chance to leave an impression in their communities. These programs allow kids to work on projects that provide them with essential skills and that make a difference in people's lives. And isn't that what school is all about?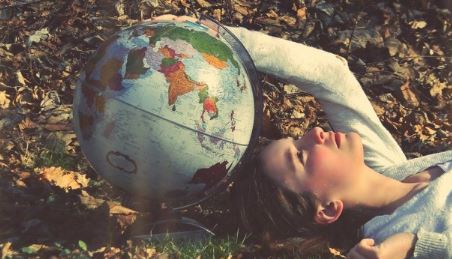 With the end of 2014 fast approaching, I would like to wish everyone a joyful holiday season. I look forward to visiting more school districts and communities in the new year and checking out the innovative work being done to promote careers and skills for our students in British Columbia.
Enjoy our last newsletter of the year, and see you in 2015.

Larry Espe,
Superintendent, Careers and Student Transitions
Ministry of Education


2014 Industry Training Authority Youth Day
The Industry Training Authority's 9th Annual Youth Day took place on November 26 at the Four Seasons Hotel in Vancouver. About 160 people participated in this year's event, including school district career educators and principals, post-secondary deans, and Ministry of Education officials. The day began with an informative keynote by BG Canada's President, Madeline Whitaker, on LNG and the opportunities it presents for BC communities. Following the keynote, Maureen Phung, ITA's Youth Administrator and ACE IT graduate, moderated presentations by a dynamic group of young apprentices who have taken part in ACE IT or Secondary School Apprenticeship (SSA) trades programming. This was a great opportunity to hear what these students have learned and what their recommendations are for smooth transitions into the workforce.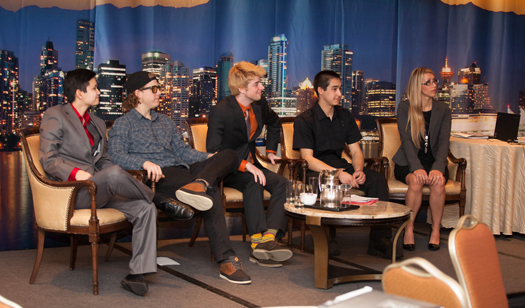 Next, a conversation with employers was moderated by ITA's Chief Operating Officer, Jeff Nugent. The employer panel included BC Hydro, the International Brotherhood of Electrical Workers, Craftsman Collision, and Pacific Bolt Manufacturing. Each organization had an opportunity to speak about apprenticeships from its perspective. This conversation brought forward both the challenges of considering youth apprentices and the opportunities available in several companies and union associations.
The afternoon consisted of two break-out sessions. The Youth Program session, presented by Erin Johnston, ITA Director of Training Investment, and Jane Worton, Partner, Queenswood Consulting, focused on how the recent consultation with school districts, post-secondary institutions, employers, parents, and youth has been informing the refresh of ITA's youth programs. The second break-out session was on Best Practices in Employer Engagement. Four school districts presented "lightning" talks on their programs and then broke into speed interviewing circles. This allowed smaller groups a chance to discuss ideas in greater detail. Lisa Ayton, Youth Outreach Leader, and Maureen Phung, Youth Administrator, led this session.
You can view all of the presentations and best practice seminars that were presented at Youth Day 2014 here:
http://www.itabc.ca/events/youth-day


ITA Youth Day Video Recap
Check out some of the highlights of ITA Youth Day in this fun video from Karen Larsen, Careers Coordinator for School District 39 (Vancouver).


2014 Career Education Society Conference
From Rodger Hargreaves, Career Coordinator, School District 62 (Sooke)
Attendance was up at this year's Career Education Society Conference, held November 24 and 25 in Vancouver. Many of us who have been attending the conference for several years pick workshops based on what's new and to see what everyone else is up to. We take our notes, check out new programs, and network with our colleagues. It's a valuable experience. But what about a person who has never attended a CES conference before? What's the event like for them? The following is the summary of five workshops taken by someone new to career development who was attending the CES Conference for the first time.
In Compliance with Jobs Blueprint and Other Career Transition Options (Joanne Armstrong)
This was an interesting session that gave me a better overview of the career transitions options and what the auditors are looking for. It helped to see the big picture and to hear about some of the issues that some districts are dealing with as well as what concerns seem to be province-wide.
Digging Deeper into Student WorkSafe (Robin Schooley and Helen Chandler)
This was a very interesting session which helped familiarize me with the resources available through WorkSafe BC and the cross curricular connections which I have already shared with staff at our school.
BC's Changing Labour Market (Christian Saint Cyr)
This presenter was very engaging and well-informed. He had a very interesting message about what BC's future labour market will look like. It was interesting to me on a personal level as well as help me when I am counselling students in their future careers.
Strengthening the Soft Skills of Youth in Employment Transition (Valerie Ward)
I like how Valerie showed how important soft skills are in transitioning into careers and staying in careers. Her information on the Employment Readiness Model was very informative and interesting. She showed some great techniques on how students can strengthen areas of "soft skills."
Rethinking Job Search with the BC Job Search Guide (Christian Saint Cyr)
The BC Job Search Guide is a great tool for helping students choose either careers or do job searches. Christian's 28 day program is well laid out and would really help quite a few students with their job searches.
ChatterHigh - Create Real Student Awareness With a Gamified Career and Post-Secondary Exploration Assignment (Lee Taal)
This was the best session I went to. Lee was very dynamic, engaging, and had a great story to tell. I think Chatterhigh.com is one of the best tools to get students engaged in career exploration. I like how Lee has made a game of career exploration and that students can also practice community service by either engaging in fund raising programs for their school or by donating to a charity. He really brings career exploration home. I am looking forward to him doing video presentations to our Planning 10 classes.
WOW, five workshops that worked for one person! What a tremendous way to encourage someone to get excited about career development! The Career Education Society wants to make sure the workshops we host are meaningful to YOU as well, so if you haven't already done so, please complete our post-conference survey at the link below. Your feedback is very important to us:
https://www.surveymonkey.com/s/CES-Delegates-2014
See you next year!


School District 59 (Peace River South) Careers and Skills Non-Instructional Day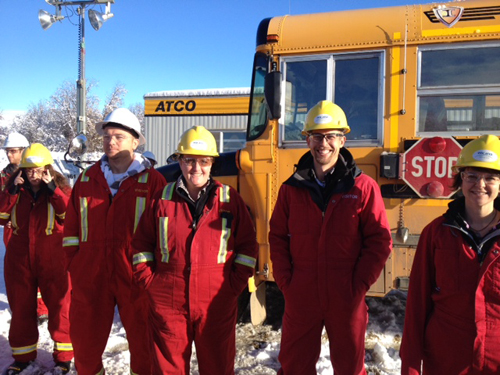 Frances Armstrong, Career Programs Manager for School District 59 (Peace River South), sent along this recap of their recent careers and skills non-instructional day:
Our district offered a full-day Student Career Discovery session on October 24th to introduce teachers to the career opportunities in our region as well as the training programs available to our students. The day kicked off with introductions and a brief overview of the economic climate in the Peace Region and the BC Skills for Jobs Blueprint. Following this overview, Brian Lieverse, Community Relations Advisor for Encana, showed participants a brief video that described the drilling process.

Before departing by bus to an active well site, everyone was suited up with hard hats, coveralls, and safety boots. At the site we learned about the fracking process and had the opportunity to talk to Encana employees and contractors about careers in the oil and gas industry. This was followed by a tour of an Encana compressor station.

After lunch, Kate O'Neill, Community Relations Manager for BC Hydro, spoke about plans for construction of the Site C Dam and the many career opportunities that will be available if the project is approved.

Next the group toured various trades programs offered at Northern Lights College, Dawson Creek campus. This included the Cook Program, Carpentry, Welding, AME, Millwright, and Plumbing. The college instructors who spoke about their programs were very passionate and invited the teachers to bring students to the college to be a "student for a day" to learn about the trades.

Overall the day exceeded our expectations and closing comments from the participants were very positive.
Have you hosted or taken part in your careers and skills non-instructional day yet this year? If you have, we'd love to hear how it went. Please contact Teresa McClintick at teresa.mcclintick@gov.bc.ca to share the details with us.


Skills Exploration 10-12 Automotive Component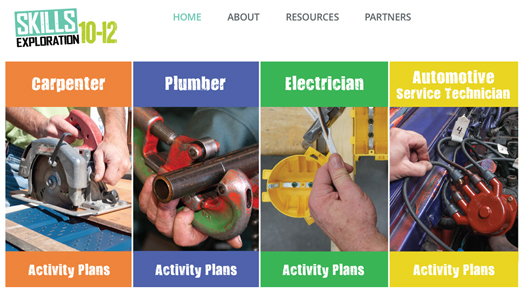 Are you looking for resources to introduce students to the automotive service trade? These new activity plans on the Skills Exploration 10-12 website will fit the bill:
http://www.mytrainingbc.ca/SkillsExploration/index.html
These activity plans introduce students to some of the basic skills involved in becoming an automotive service technician. They are designed to supplement and support the experience and expertise that teachers of Skills Exploration 10-12 bring to their instruction.
The Automotive Services Technician section has also been added to the Skills Exploration 10-12 Program Guide. Please check here for the details:
http://www.bced.gov.bc.ca/irp/pdfs/applied_skills/2014skills_exploration1012.pdf


Auto Tech Program Gives Dual Credit to Southern Vancouver Island High School Students
Southern Vancouver Island high school students who are considering a career as an automotive service technician are invited to apply for the new auto tech program, offered in partnership by Camosun College and Victoria High School. This apprenticeship training is offered as a dual credit program, which means students will earn high school credit and college credit at the same time, and the school district will cover the cost of tuition.
The program starts at Victoria High School with 13 weeks of classes and shop work starting in February. After completing 120 hours of work experience, students will then continue their training at Camosun College, for the seven-week automotive service technician Level 1 apprenticeship training. When students graduate on July 10, they'll be eligible to write the provincial exam to earn their Level 1 certificate of qualification.
The program is open to Grade 11 and 12 students throughout southern Vancouver Island, as well as recent graduates who were 18 years of age or younger as of July 1, 2014.
Further information is online at http://camosun.ca/learn/lync/programs/auto-tech.html.
Interested students may apply by contacting Nicola Priestley, career coordinator for School District 61, by email at npriestley@sd61.bc.ca.


New Opportunity for Kamloops High School Students to "Sample" University
School District 73 (Kamloops/Thompson) and Thompson Rivers University (TRU) are collaborating on a unique education opportunity that will allow students in the region to "sample university" while they are still attending high school. The agreement between the two institutions will allow TRU to offer dual credits in construction and mechanical trade courses at the new
NorKam Trades and Technology School
.
"This agreement provides an opportunity at NorKam Trades Centre to give students advanced credit, and a sense of what is involved in a skilled trades career," says Sheryl Lindquist, District Principal, Secondary Transitions. "These courses go well beyond technical programs offered at the high school level and focus on the practical skill needed to pursue a career in the trades."
Similar to the ACE IT and TRU>Start programs already available in the district, the new Construction and Mechanical Trades "sampler" courses will be administered and taught through Thompson Rivers University faculty to eligible students in grades 10 through 12. However, rather than students attending school at the TRU campus, they will be taught at the NorKam Trades and Technology Centre, where a new wing with classroom and shop facilities has been recently constructed to accommodate increased trades and technology training.
Students who successfully complete the sampler courses over one semester earn 16 credits toward their high school diploma and 12 credits from TRU, which may be applied to a Bachelor of Arts or Bachelor of General Studies degree.The training can accommodate up to 36 students in each semester and applications for the September 2015 intake will be available in the new year with a deadline set for mid February. The first cohort of students accepted to the program begins studies at NorKam in February of 2015.
The District is making students aware of the opportunity through the Trades and Technology Coordinators at each high school and through public meetings hosted at NorKam Secondary. There is also a website that provides information on the programs at www.tnt.sd73.bc.ca.
The Province of British Columbia, the Industry Training Authority, and School District No. 73 have collectively invested $7.4 million to renovate NorKam Secondary to accommodate new trades and technology classrooms and facilities in anticipation of the greater need to fill skilled trades positions. The forecasted need for skilled trades workers in BC in the coming decade is enormous with an estimated 1 million individuals needed to fill positions that will be largely vacated by retiring workers over the next 8-10 years.


Meet Jeff Dickson
When it comes to trades teachers, School District 35 (Langley) has a superstar in its midst. Jeff Dickson has been teaching the highly successful ACE IT Piping and Plumbing program at Langley Secondary School since its inception in 2007. Dozens of his former students have gone on to successful careers and many even own their own piping and plumbing businesses. Jeff has the rare distinction of holding a Red Seal certification in Plumbing and a Master's degree in Administration as well.
Jeff has provided outstanding service to the students at his school. He has also supported many district-wide activities promoting trades with younger students. This includes using his secondary students to mentor and support elementary age students in several initiatives such as Junior Trades programs and Pizza, Pop, and Powertools for young girls. Jeff was also an integral member of the writing team that created the new provincial Skills Exploration 10-12 course.
In recognition of his accomplishments and his commitment to skills and trades education, Jeff was recently selected as a recipient of the Prime Minister's Award for Teaching Excellence. Langley's Member of Parliament, Mark Warawa, presented the certificate to Jeff in person. Many of Jeff's colleagues and current and former students come out to support a teacher who has had such a positive impact on their lives. Click here to learn more about Jeff in the nomination package that was submitted for this very prestigious award.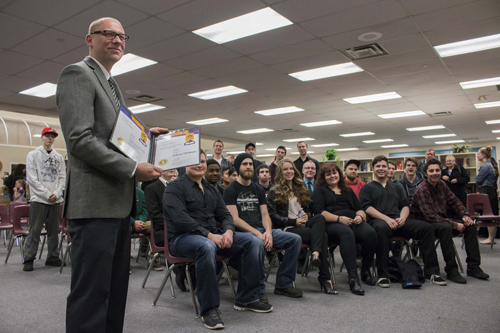 School District #35 is very proud and grateful for the innovative ways that Jeff has promoted and supported trades in the district and throughout the province. Congratulations on your award, Jeff!
Is there a teacher or student in your school or district who deserves to be recognized, like Jeff, for his or her outstanding contributions to skills and trades? If so, we'd love to hear about it. Drop us a line at educ.skills@gov.bc.ca with the details.


ITA Youth Department Staffing Update
The ITA now has a full team in place to oversee its Youth Programs.
New to the team is Sabinah Rafiq, who has joined the ITA as its Youth Manager. Sabinah brings over 13 years of experience leading provincial youth programs, including over 8 years as the Provincial Program Manager for a number of youth programs for Industry Canada in Manitoba. Within BC, Sabinah has held Program Manager positions for both the Young Entrepreneur Leadership Launchpad (YELL) and Junior Achievement of British Columbia. Her experience developing and delivering educational programs and forming partnerships with community organizations and industry will be a great asset. Please contact Sabinah at srafiq@ita.bc.ca or 778-327-5919 if you have general program issues or inquiries.
Lisa Ayton is ITA's Youth Outreach Leader responsible for promoting ITA's Youth programs and providing support to school districts for youth promotional activities. Lisa is responsible for coordinating ITA's Youth Day, supporting school district and community events, and developing materials and resources to promote youth programs. Lisa has reviewed previous ITA outreach activities and gathered feedback from the school districts to identify the priority activities for ITA to continue to support. Lisa is responsible for coordinating ITA's involvement in these activities, working closely with ITA's Apprenticeship Advisors, Industry Relations Managers, and Communication Department. If you're looking for information on ITA Youth events, promotion, and resources, please contact Lisa at layton@ita.bc.ca or 778-785-2427.
Maureen Phung is ITA's Youth Administrator responsible for administrative support for the ACE IT, SSA, and Yes 2 IT programs. Maureen oversees the ACE IT registration process, including assessing eligibility, uploading data, issuing invoices, and approving SSA registrations. Maureen also provides customer service support to school districts and youth apprentices. If you have day-to-day administrative questions about ITA Youth Programs please contact Maureen at mphung@itabc.ca or 778-785-2437.


New Online Tool Launched to Match BC Apprentices and Employer Sponsors

Finding an employer sponsor is one of the biggest hurdles to a successful apprenticeship. With over 37,000 registered apprentices in BC, and over 9,400 employer sponsors, the need to connect apprentices to local employers is greater than ever.
To help, the Industry Training Authority (ITA) and WorkBC recently launched a new innovative Online Apprentice Job Match Tool. This tool will better connect British Columbian apprentices looking for on-the-job training they need to boost their skills and achieve certification in their chosen trade. The Online Apprentice Job Match Tool can be found on the WorkBC website at http://www.workbc.ca/Job-Seekers/Trades-and-Apprenticeship.aspx.
Visit the ITA BC YouTube Channel at https://www.youtube.com/playlist?list=PLb4F9bHWtedQkOa7LEx5u7W7HOFS54gmj for videos of the new tool in action.
For more information, please contact:
Susan Kirk Director of Communications,
ITA Tel: 778.785.2410
Cell: 604.307.2122
Email: skirk@itabc.ca


Are You Ready for a Career in the Trades?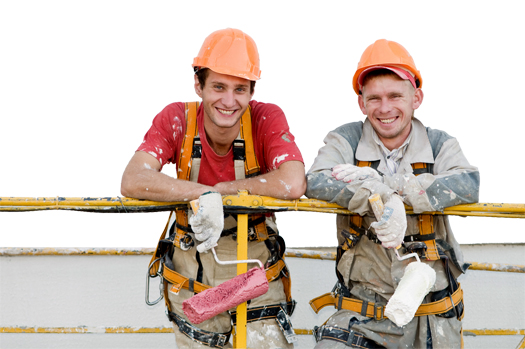 You need strong Essential Skills to be successful in a trades career. Essential Skills are measured on a five-point scale where 1 is low and 5 is high. The more complex a task is, the more skill it requires and the higher the complexity level.
Most jobs in Canada, including skilled trades, require Level 3 Essential Skills or above. Apprentices in the skilled trades require at least Level 3 Essential Skills in reading, document use, and numeracy to be successful in technical training.
How Do Your Skills Measure Up?
Test your skills using free online trades related activities on skillplan.ca/measure-up, including the Construction Workers Workbook.
For more information on Essential Skills services for the trades, visit skillplan.ca/construction.


Calendar of Events
December 16-17: LNG Regional Seminar and Find Your Fit Tour, Squamish.
January 13-14, 2015: LNG Regional Seminar and Find Your Fit Tour, Nanaimo.
February 3-4: LNG Regional Seminar and Find Your Fit Tour, Kamloops.
Feb-Mar 2015: Skills Canada BC Regional Competitions (13 locations). http://www.skillscanada.bc.ca/neweventdates.aspx
Apr 15, 2015: Provincial Skills Canada BC Competitions, TradeX, Abbotsford. Phone: 604-432-4229 Email: bc@skillscanada.com
May 27-30, 2015: Skills Canada National Competition, Saskatoon, SK. http://skillscompetencescanada.com/en/programs/skills-canada-national-competition/