Edition: February 2009
Resources
Top News by Sector
Economy
Government Operations
Multiculturalism
Services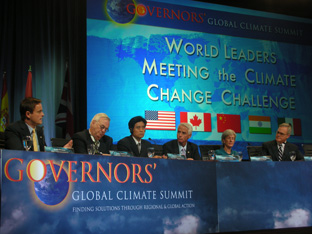 Global Climate Summit in California Looks to
Reduce Emissions and Expand Green Economies
During the two-day Governors' Global Climate Summit in California, Minister Barry Penner (left side of photo above) joined more than eight U.S. states and representatives from 11 countries in signing a joint declaration agreeing to pursue collaborative action to reduce GHG emissions and create opportunities to grow green economies.
"British Columbia knows and values the importance of national and international relationships and partnerships in the global battle against climate change," said Penner. "This summit gave us an opportunity to meet face-to-face with other world leaders and discuss new ways to work together to reduce greenhouse gas emissions, both in our province and globally, while facilitating new technologies and economic opportunities."  Read more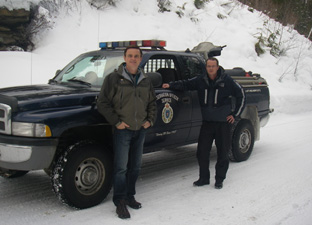 Minister Penner (left) met with Conservation Officer Kent Popjes on patrol near Revelstoke who was working to ensure compliance with B.C.'s environmental regulations.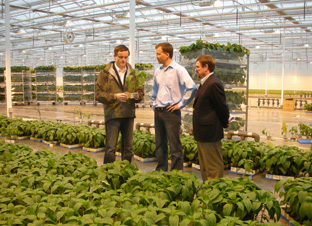 Leo Benne (left), general manager of Bevo Farms, and Garnet Etsell (right), BC Agriculture Council Chair, take Minister Penner (centre) on a tour of the company's greenhouse in Langley.
---
 B.C. Gets Tough on Agrigultural Boiler Emissions
With an aim to protect air quality, the Ministry of Environment is introducing tougher limits on emissions from wood-fired agricultural boilers, Environment Minister Barry Penner announced.
"Wood-fired agricultural boilers, like those commonly used by the greenhouse industry, are a low-carbon form of renewable energy," Penner said. "However, they are also a source of particulate matter. By introducing more stringent emission standards in this sector, we are following through on our Air Action Plan, and ensuring that we have up-to-date regulations that complement regional bylaws."  Read more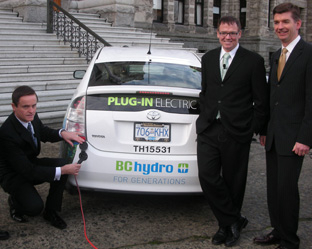 Minister Penner demonstrates how easy it is to recharge a new plug-in hybrid electric vehicle. Also in this picture, from left to right, Transportation and Infrastructure Minister Kevin Falcon, and Labour and Citizens' Services Minister Iain Black. 
The three Ministers announced nearly $400,000 in provincial funds to support plug-in hybrid electric vehicle technology and related monitoring equipment. Ted Olynyk, BC Hydro Community Relations Manager joined the Ministers as well, providing valuable technical information about the vehicles.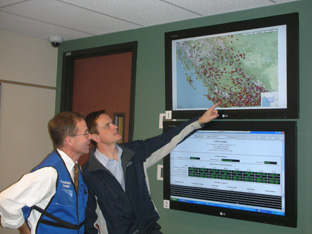 Minster Penner and Allan Chapman, head of the River Forecast Centre with the Ministry of Environment, (left photo) examine the network of automated snow pillow and river level and discharge stations used to issue flood advisories across B.C.
---
New Satellite System Gets Faster
Flood and Climate Data
The B.C. government has purchased a new domestic satellite data retrieval system (DOMSAT) that will greatly reduce the time needed to retrieve critical weather, snow and river data used to warn British Columbians about potential flooding, Environment Minister Barry Penner announced. 
Penner was joined by Public Safety Minister John van Dongen at the Provincial Emergency Program's new headquarters in Saanichton, where the $30,000 DOMSAT data retrieval system has been installed.  Read more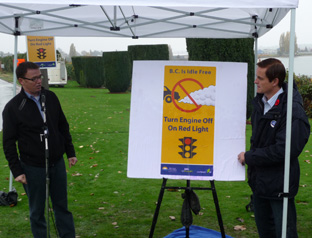 Minister Penner (right) joined Transportation Minister Kevin Falcon (Left) to unveil a sample B.C. Is Idle-Free sign. Signs like this will be placed along the southbound lanes at Peace Arch border crossing, reminding drivers to turn off their engines while waiting to cross the border.
---
New Program to Reduce Emissions 
at Peace Arch Border
The launch of a new program at the Peace Arch border crossing will help reduce emissions and improve air quality. Under this program, an estimated 639,000 kilograms of greenhouse gas emissions per year will be eliminated. Removing the emissions will be achieved by reducing average vehicle idling time at the border by 20 minutes.
"Vehicle emissions are a significant source of both harmful air pollutants and greenhouse gases," said Penner. "By minimizing idling, we're doing our part to improve air quality and curb the damaging effects of climate change, while helping individuals to save money by reducing their fuel consumption."  Read more