Edition: January 2018 edition
Resources
Top News by Sector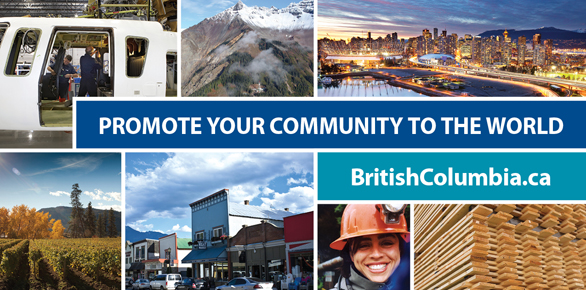 We would like to take a moment to wish you a happy 2018 and provide you an update on what we have been doing at the new Ministry of Jobs, Trade and Technology to promote B.C. communities online.

BritishColumbia.ca Website Enhancements
Last year we addressed nearly 200 bug fixes and improvements and we would like to highlight one notable enhancement recently developed with communities and investors in mind:
Integration with the BC Economic Atlas
The recently introduced integration of community profiles with the BC Economic Atlas offers a user-friendly, web-based mapping application that is available to the general public at no cost. It is a useful resource for accessing critical business information by providing an intuitive, visual way to gain a better understanding of B.C.'s vibrant economy and diverse communities. Through interactive maps, the atlas makes data available from literally thousands of sources; from employment and demographic data to major projects in a specific area. BritishColumbia.ca users wanting to gain even greater economic insight when exploring a community are now able to access the Atlas with just one click.
Site Visibility Continues to Grow
We are encouraged by the growth in site traffic in 2017. The number of site users grew by 15% over the previous year. In 2017 there were nearly 215,000 site sessions on BritishColumbia.ca. Notably, about 45% of site traffic comes from outside British Columbia, and last year 36% was from outside Canada. About 17% of site traffic now comes from the USA. Japan, South Korea, India and China are the next most popular visitors, collectively representing about 10% of site traffic. The website is also consistently the first result in Google Search for terms such as Invest British Columbia, including the landing page for community profiles.

Leverage BritishColumbia.ca in Your Investment Attraction Activities
Every B.C. community can benefit by leveraging what BritishColumbia.ca offers. You can either complement your existing online presence or use the website as the primary vehicle to promote your communities online to business investors. Here's how you can do this:
Ensure your community profile is accurate
If it has been a while since you last checked it, we encourage you to review your profile on the site and ensure the information is up-to-date and accurate. Ensure the profile stands out and presents your community in the most positive light.
Build links to/from BritishColumbia.ca
Linking to BritishColumbia.ca is a win-win. Linking to and from BritishColumbia.ca will help improve your site in the eyes of search engines and potentially drive more quality online traffic to your site. This is why we encourage you to place links to your BritishColumbia.ca community profile on your own website. Let us know if you need any help with creating links, as we are happy to assist with graphics and language if need. Ensure your links are SEO optimized by using keywords in your link.

Let Us Know How We Can Improve BritishColumbia.ca
Currently, we are looking for ways to further improve BritishColumbia.ca features and functionality and we invite you to comment on how we can make the BritishColumbia.ca better and more useful for your investment attraction efforts. If you have any thoughts or suggestions for please connect with Irina Richardson by email at Irina.Richardson@gov.bc.ca or by phone at 604-318-2899.