Edition: March 5, 2017 edition
Resources
Top News by Sector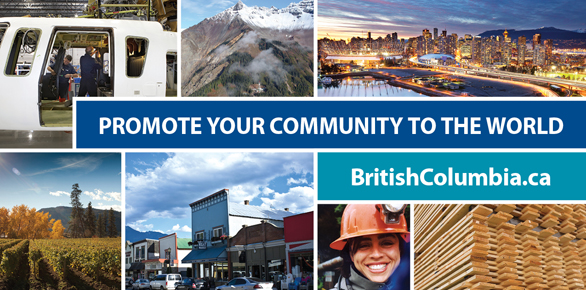 BritishColumbia.ca Website Enhancements
Following a successful rollout of new features last summer, BritishColumbia.ca — the digital hub for promoting B.C. communities to the world — continues to evolve. We have made nearly 50 bug fixes and improvements since, and we would like to highlight two notable enhancements which have been recently implemented with communities and investors in mind:
1. Integration with Imagine Kootenay
Imagine Kootenay is a dynamic platform that showcases investment opportunities in the Kootenays. Partner communities/regions include: Nelson and area, Kootenay Lake, Castlegar, Trail, Rossland and area, Nakusp, Revelstoke, Boundary Country, Golden, Columbia Valley, Fernie, Kimberley and Sparwood. With this addition, there are now nearly 8000 investment opportunities listed on BritishColumbia.ca.
2. Save and Share Opportunity Search Requests
The website now enables users to save and/or share opportunity search requests. When you enter specific search criteria (geography, sector or keywords), you can now save this search by copying a link from the search results page. You can also place this link on your website, allowing your web visitors to see all the investment opportunities in your region with just one click. This is also helpful in one-on-one conversations with investors.



Site Visibility Continues to Grow
We are encouraged by the growth in site traffic in 2016. The number of site users grew by 30% over the previous year. Notably, traffic from the USA increased by 128%. International visitors currently represent 34% of overall site traffic. The website is also consistently the first result in Google Search for terms such as Invest British Columbia, including the landing page for community profiles.


Every B.C. community can benefit by leveraging what BritishColumbia.ca offers
You can either complement your existing online presence or use the website as a vehicle to promote your community online in business conversations.
1. Ensure your community profile is accurate
Review your profile on the site and ensure the site is up-to-date and accurate. Ensure the profile stands out and presents your community in the most positive light to the 200,000 website visitors annually.

2. Use the site in you economic development conversations
When engaging in economic development conversations about your community, direct people to your community profile when needed and remember that you can use the built-in functionality (such as export to Excel and PDF, set up new opportunity alerts) to aid in your economic development activities.

3. Build links to/from BritishColumbia.ca
Linking to BritishColumbia.ca is a win-win. Linking to and from BritishColumbia.ca will help improve your site in the eyes of search engines and potentially drive more quality traffic to your site. This is why we encourage you to place links to your BritishColumbia.ca community profile on your own website. We can help you with creating links and can assist with graphics and narratives if needed.


Promote Your Community to the World Webinar
On Nov. 15, 2016, we conducted a webinar, Attract Investment and Promote Your community with BritishColumbia.ca, for economic development stakeholders across the province. We covered some of the common challenges that development officers face when promoting communities online. This included a demonstration on how community profiles on the BritishColumbia.ca site can be updated in order to stand out. In case you missed, you can watch the webinar online.


We Are Here To Help
If you have questions or need help, please don't hesitate to contact us.