Edition: August 2010
Resources
Top News by Sector


August 19, 2010
Volume 1, Issue 4



Welcome to the e-Newsletter
To subscribe to the e-Newsletter, visit www.SeniorsBC.ca and to unsubscribe, click here.


Supporting Elders and Seniors to Live Well at Elders Gathering
When the Adams Lake Band hosted the 34th Annual Elders Gathering from July 13-15, 2010 in Salmon Arm, traditional territory of the Secwepemc (Shuswap) Nation, the Seniors' Healthy Living Secretariat (SHLS) was there to meet the Elders and provide healthy living information and resources.
SHLS hosted an information booth at the Gathering, to promote provincial government resources for older adults, such as the BC Seniors' Guide, the new SeniorsBC.ca website (including a new page of resource links for Aboriginal Elders and seniors), and the Health and Seniors Information Line (toll-free province wide: 1-800-465-4911; in Victoria call 250-952-1742). Many of the estimated 3,000 Elders in attendance stopped by to pick up information and share their views on healthy living.

Read More


B.C. National Aboriginal Day Celebration, June 21, 2010
On June 21, the Province joined individuals, organizations and communities across B.C. and Canada in celebrating National Aboriginal Day.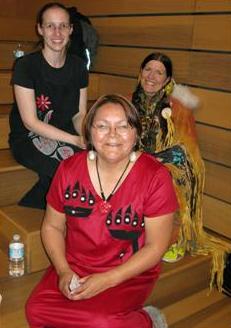 Event organizers Christie (L), Karen (R) and Patricia (centre) of MARR's Aboriginal Relations Committee
The Ministry of Aboriginal Relations and Reconciliation (MARR) organized an event at First Peoples House at the University of Victoria for Aboriginal staff across government. Lekwungen (Songhees)
Elder Butch Dick provided a blessing, his son Bradley acted as MC for the day, and attendees were given a traditional welcome to the territory.


Granny Eva's Baked Bannock
By Eva Hanso
Starch, Serves 30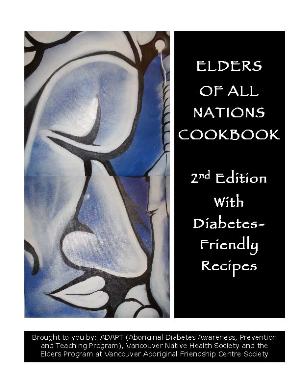 Ingredients:
6 cups whole wheat flour
6 tsp baking powder
1 cup canola oil
1 cup skim milk powder
1 tsp salt
4 cups water
Baked Salmon
By Margret Harborne
Main, Serves about 19 (or less if not including head, tail and fins)

"When we're talking about fish that's salmon. If we're talking about halibut, we'll say halibut... or cod or anything else. But fish is salmon." - Ron Wilson

Ingredients:
1 whole salmon (about 7lbs)
1 onion, chopped
1 green pepper, chopped
1 yellow pepper, chopped
1 red pepper, chopped
3 cloves garlic
1 tsp salt
1 Tbsp non-hydrogenated margarine
¼ cup green onions
Recipes reprinted with permission from the Elders of All Nations Cookbook: 2nd Edition with Diabetes-Friendly Recipes, 2008 brought to you by ADAPT (Aboriginal Diabetes Awareness, Prevention and Teaching Program), Vancouver Native Health Society, and the Elders Program at Vancouver Aboriginal Friendship Centre Society.
To order a copy, send a cheque for $12 ($10 + $2 for shipping) total to the address below, or email selfmanagement.vnhs@gmail.com if you require an invoice.
Sandra Bodenhamer, RD, Vancouver Native Health Society
449 East Hastings Street
Vancouver BC V6A 1P5
Phone: 604.254.9949
Email: selfmanagement.vnhs@gmail.com