Edition: June 2010
Resources
Top News by Sector


June 29, 2010
Volume 1, Issue 3



Welcome to the e-Newsletter
To subscribe to the e-Newsletter, visit www.SeniorsBC.ca and to unsubscribe, click here.


World Elder Abuse Awareness Day
In 2010, for the fifth year in a row, the Province of British Columbia joined jurisdictions around the world in proclaiming June 15th as World Elder Abuse Awareness Day (WEAAD).
For many organizations and individuals, World Elder Abuse Awareness Day is both an opportunity to bring attention to the issue, and a catalyst for action. For all of us, this day is an important reminder that we still have work to do to ensure that older British Columbians are supported to be healthy, to be active, to be safe, and to live with dignity.


"Follow FITT to slowly increase your level of physical activity.
• F – Frequency
• I – Intensity
• T – Time (minutes)
• T – Type (examples – continuous, involves large muscle groups)"


Berry Cobbler
This low-fat cobbler is moist and full of nutrition. Enjoy it warm with a small scoop of vanilla ice cream or a spoon of yogurt. Keeps in the refrigerator for the next day.This recipe and others like it can be found in the Healthy Eating for Seniors handbook.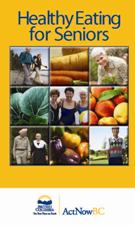 Serves: 3
Preparation time: 30 minutes
Baking time: 30 minutes
Per serving: Calories: 189, Protein: 5g, Fat: 6g, Carbohydrate: 27g, Fibre: 2.8g, Sodium: 211 mgs, Calcium: 94 mgs