Edition: March 18, 2010
Resources
Top News by Sector


March 18, 2010
Volume 1, Issue 1



Welcome to the e-Newsletter
The SeniorsBC e-Newsletter, featuring current information on services and programs available to B.C. seniors, will be delivered to subscribers via e-mail several times a year. Readers can also look forward to feature stories on active seniors, healthy eating recipes and active aging tips.
We encourage you to share the e-Newsletter with friends, family and colleagues. You can subscribe to the e-Newsletter through the SeniorsBC website and have a copy delivered directly to your inbox!


Meet the Seniors' Healthy Living Secretariat
In September of 2008, the Provincial government released Seniors in British Columbia: A Healthy Living Framework (Framework), an action plan designed to support British Columbia's aging population. The Framework introduces four cornerstones: Create Age-friendly Communities, Mobilize and Support Volunteerism, Promote Healthy Living, and Support Older Workers.
The Seniors' Healthy Living Secretariat, housed within the Ministry of Healthy Living and Sport, is leading implementation of the framework across the provincial government and with other key partners including local governments, the business community and community organizations.


"Physical activity is vital to a healthy life. It keeps you strong, reduces your risk of certain diseases and chronic conditions, and helps you maintain your health and independence. Try for a moderate amount of activity (30-60 minutes a day) on most days of the week for full benefits." ActNowBC


Herbed Lentil and Barley Soup
This soup is easy, healthy, colourful, delicious, and almost as thick as a stew. It's a great source of fibre and protein, which makes it especially good for vegetarians. It is also inexpensive and freezes well. You can serve it with a slice of whole wheat bread, a small green salad and low-fat yogurt or fruit for dessert. This recipe and others like it can be found in the Healthy Eating for Seniors handbook.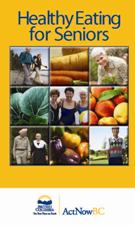 Serves: 4
Preparation time: 30 minutes
Cooking time: 1½ hours
Per serving: Calories: 202, Protein: 8g, Fat: 7g, Carbohydrate: 25g, Fibre: 5.2g, Sodium: 287mgs Calcium: 78mgs