Jobs, Economic Recovery and Innovation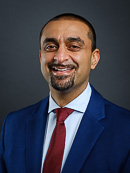 Honourable Ravi Kahlon
Honourable Ravi Kahlon
Read Bio
Contact
Email: JERI.minister@gov.bc.ca
Featured Topics
Featured Services
Newsletters
Honourable Ravi Kahlon
Ravi Kahlon was first elected as the MLA for Delta North in May 2017. He previously served as the Parliamentary Secretary for Forests, Lands, Natural Resource Operations and Rural Development, where he championed the use of mass timber and innovation in the forest sector.
As Parliamentary Secretary for Sport and Multiculturalism, he helped restore the BC Human Rights Commission and travelled the province to build an anti-racism strategy.
Born and raised in Victoria, Ravi was introduced to Field Hockey by his father and grandfather. He is a two time Olympian in the sport for Team Canada and has been inducted into the Delta Sports Hall of Fame.
Before he was elected an MLA, Ravi worked in banking for seven years. He has been active in the North Delta community for many years as a volunteer on the boards of the Delta Parks and Recreation Committee and Men's High Performance Field Hockey BC.
He is also a certified coach and mentor to many young people in North Delta and spends time coaching field hockey and soccer.