Edition: February 2019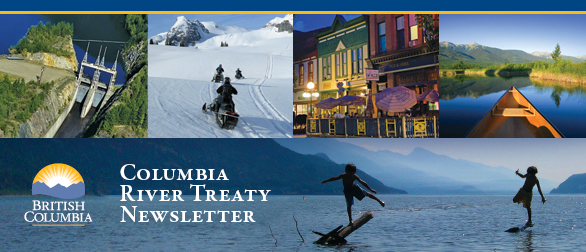 Sharing Canadian Interests
Feb 7, 2019
With the launch of Canada-U.S. negotiations last year, the Columbia River Treaty became the centre of discussion at a number of conferences in both Canada and the U.S.
In April, a wide range of Treaty stakeholders attended the Lake Roosevelt Forum in Spokane, WA. The keynote address was delivered by U.S. Acting Assistant Secretary of State for Western Hemisphere Affairs, Francisco Palmieri. He expressed the need for Canada and the U.S. to work towards the original Treaty principle, to create benefits and share them equitably between the two countries. A panel of Treaty opinion leaders discussed the benefits and impacts of the Treaty, and their thoughts on a future Treaty.
For a summary of the Forum, visit: http://www.lrf.org/conference-presentations/2018/ConfProgram2018presentations.html
In May, representatives from local, provincial, federal and Indigenous Nation governments, community and non-government organization leaders, consultants, researchers and funders from Canada and the U.S. came together in Victoria for the Canadian Water Resources Association Columbia River Treaty Symposium. This one-day event convened over 200 individuals to identify key science and technical issues, raise awareness, and explore the future of the Columbia River and the Treaty.
View the proceedings, video recordings, and additional resources here: https://poliswaterproject.org/polis-event-webinar/columbia-river-treaty-symposium/
Finally, in July, the Pacific Northwest Economic Region Summit in Spokane, WA dedicated a half-day session to the Treaty. Lead negotiators from Canada, Sylvain Fabi, and the U.S., Jill Smail, provided opening remarks, then participated in a listening to a panel, where 20 Canadian and U.S. stakeholders explained how the Treaty impacts different interests, and what their hopes for a modernized Treaty are. Following this panel, legislators from both countries shared their thoughts on how the Treaty has benefited and impacted livelihood in their respective regions.
The session is available to listen to here: https://www.tvw.org/watch/?eventID=2018071049
After the Summit, legislators were offered the chance to tour the Grand Coulee Dam in Washington State, and a portion of the Canadian Columbia Basin. Over 50 U.S. legislators attended the two day Canadian Basin tour, learning a great deal about the Canadian Columbia Basin geography, ecology, community interests and impacts experienced from the Treaty.
Canada and B.C. look forward to another year of connecting with U.S. neighbours on the Treaty.