Edition: February 2022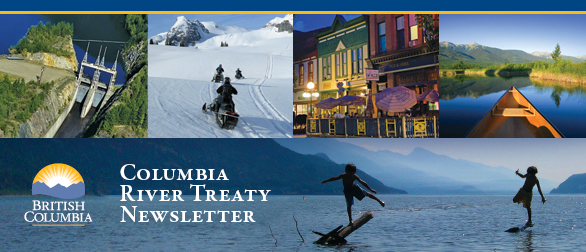 Canada and the U.S. reconvene to advance Treaty negotiations
Feb 14, 2022
Negotiations to modernize the Columbia River Treaty have been underway since May 2018. Since then, Canada and the U.S. have discussed a wide range of issues tied to the internationally recognized water management agreement. From the Treaty's original purposes of enhancing flood risk management and hydroelectric power, to incorporating ecosystems into the Treaty, increasing bilateral coordination of Libby Dam operations, and expanding operational flexibility to meet Canadian interests, the countries are exploring how the Treaty can be improved to reflect their needs today and into the future. This is an extremely complex process that will take time.
In 2020, each country put forward a framework for a modernized Treaty outlining their thinking on the main issues. The U.S. tabled their framework in March, and Canada responded with their proposal the following June. There was a pause in discussions after this, as Canada awaited a response to their proposal. With priorities in the U.S. such as responding to the COVID-19 pandemic and adjusting to a new federal administration, the break in proceedings was understandable.
During that time, the Canadian team, consisting of Canada, B.C. and the Ktunaxa, Secwepemc and Syilx Okanagan Nations, continued (and continues) collaborative projects to strengthen Canada's negotiating positions. This includes a modelling initiative that will examine a variety of hydroelectric system operations to determine how Treaty dams could be managed differently to meet Canadian Basin interests, including ecosystems, Indigenous cultural values, flood-risk management, hydro power, and social and economic objectives.
On December 9, 2021, Canada and the U.S. reconnected, virtually, for the eleventh round of negotiations, followed soon after by another round on January 10, 2022. Throughout both sessions, the teams focused on evolving concepts for post-2024 flood risk management, Canada's flexibility needs, and mechanisms for achieving ecosystem objectives. To inform the latter piece, at the eleventh round, Canadian Columbia Basin Indigenous Nations made a presentation on behalf of Canada to the U.S. about ongoing ecosystem studies and analysis, as did U.S. federal agencies and Tribal advisors, similarly presenting to Canada.
As international discussions advance, the Province remains committed to engaging with Basin residents throughout the process. In addition to providing public updates via its website, news outlets and social media, the B.C. CRT Team maintains its frequent and strong connection with the CRT Local Governments Committee and the Columbia Basin Regional Advisory Committee. Though in-person community meetings are still on hold due to the pandemic, there are plans underway for another virtual town hall, similar to the one held in February 2021, where people can hear from and ask questions to those directly involved in the Treaty modernization process.
It is important to note that there is no deadline for negotiations. Canada, B.C. and the Indigenous Nations will take the time needed to reach a fair and equitable agreement that is in the best interest of the Canadian Basin. As the countries get closer to that point and there are options to share, the Province will bring those details to the public. Basin residents will be able to clearly understand what a modernized Treaty consists of before it is agreed to or finalized.
The next round of negotiations will be set in the near future.